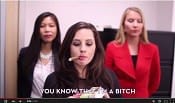 I'm curious, ladies: have you struggled to find a good balance between being a boss (or coworker) who is well liked and one who is respected? Did you have to unlearn the idea that you have to be a "bitch in business" to get ahead?
Let me back up a bit. I was interested to read about Fortune's Most Powerful Women Next Gen Summit a few months ago — particularly some of the best advice the women leaders ever received. This one quote struck me, from Mellody Hobson, president of Ariel Investments, chair of DreamWorks Animation, and a director at Starbucks and Estee Lauder:
Smile a lot. People want to work with people they like, people who are happy. … You'll be dealing with a lot of hard issues, and they're going to come across better if you have a smile on your face.*
I happen to agree with this advice — one of the things I've learned in business is that people definitely prefer to do business with people they like. (I've even advised readers to look friendly in their corporate headshots.) It seems obvious, but this flies smack in the face of the mythos of the Bitch — younger women in particular seem to revere it, like it's a goal. Case in point, pictured above: the amusing, but frustrating video Bitch in Business, produced by the student club, Columbia Business School Follies.