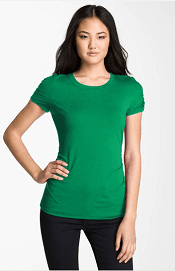 2017 Update: You may want to check out our latest discussion on the best tees for layering!
Sure, we all know what basics professional women are supposed to have in their closets, but if you're buying one for the first time or replacing one you've worn into the ground, it can be a pain to find exactly the right incarnation in stores. In "The Hunt," we search the stores for a basic item that every woman should have.
Ever since I found The Limited's highly-rated t-shirt, I've been thinking about that perennial summer question: which are the best t-shirts for layering under suits and otherwise wearing to work? In my mind, the perfect work t-shirt:
is opaque
is thick enough to not see the outline of your bra
keeps its shape throughout the day (and after several washes)
retains color evenly after numerous washes
looks like a perfect basic — not too memorable or trendy
I've rounded up some of my favorites below — but readers, which are your favorites?  (Psssst: check out The Corporette Guide to the Best Tops Under Suits if you haven't already!)

I really like Gap's "essential" v-neck Ts, at least for simple black Ts. (The white ones definitely need a camisole or something beneath them, unfortunately.) They wash up great, retain their color and shape, and generally make for a nice basic to wear with trousers or skirts. They aren't available in many colors, but they are available as a scoopneck and a crewneck. They're currently $12.50 (down from $14.95) at Gap. Essential V-neck T
Another basic, yes, but I really like it: The J.Crew Perfect-Fit V-Neck Tee. This one is a bit more figure-hugging than the Gap one (or perhaps this one is more true to size and the Gap one runs bigger). I love the variety of colors it comes in (12, as of today!), and the fact that it comes in crewnecks, camisole tanks, and "ballet button" tees. The v-neck is $19-$25 at J.Crew (and take an exra 30% off summer sale items with code SHOPNOW). Perfect-fit V-neck tee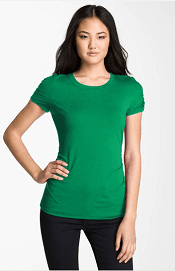 I haven't bought this one yet myself, but it's highly rated at Nordstrom, and I love the look of those ruched sleeves. It's available in black, white, salmon pink, and "jungle" green (pictured) for $44. Vince Camuto Ruched Short Sleeve Tee
I'm always amazed at how super soft Splendid t-shirts are. The slight tradeoff to this is that they can be a bit thinner than other t-shirts, but depending on what else you're wearing (under a blazer or a cardigan, or on top of a camisole) that may not matter. This one is $46 at Zappos, available in black, white, and a "paprika" red.  Splendid – 1×1 Half Sleeve V-Neck Top (Paprika) – Apparel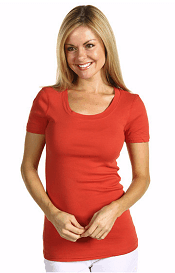 I love Three Dots t-shirts. I first discovered them years ago at a sample sale, and the quality — the thickness, the softness, even the stitching — always impresses me. I like how this one is a cross between a crewneck and a scoopneck. This top, available in "tomate" (pictured), aqua, black, "chile" red, and white, $52 at Zappos (but note that you can find a ton of lucky sizes for as low as $14.99 at 6pm.com
for this brand, including this very top in pink punch). Three Dots – 1×1 Light S/S Open Crewneck Top (Tomate) – Apparel
Theory's "Juin" t-shirt was always a reader favorite, so I thought I'd throw in this Levanoa t-shirt, now available in primary blue, green, and red. I like the wide scoopneck, the cap sleeves, and the slim cut — it's $85 at Nordstrom (and apparently is so popular only lucky sizes are left in some colors). Theory 'Levanoa – Encase' Ruched Stretch Pima Cotton Tee
Like this feature? Check out other recent installments!