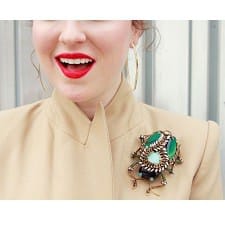 There were a few intriguing comments in Friday's open thread about brooches and whether they were in style, with some readers even suggesting it might be a matter of age. To me, though, this kind of comes down to style versus trend — and I thought it might make an interesting discussion here. After all, don't stylish women wear what they fancy — trends be damned? On the flip side, if something was once very trendy and is not any longer, at what point does it cross the line into frump and being "out of style"? How do you cultivate a style instead of merely following trends? (Pictured: The Glamourai.)
For brooches, for example, I 100% agree that they are not trendy right now. They did go through a brief moment of trendiness in the early aughts — for some reason 2003 sticks in my head, along with an episode of What Not to Wear where Stacy London was suggesting women add two or three brooches at a time to sweaters, coats, and more. Somehow, though, I had found my way to brooches before that — buying a ton of them at the Eastern Market flea market while I was in law school — and I still wear them now. (Here's my advice on how to wear brooches.) As some readers pointed out, the excellent blogger Adina at Blue Collar Red Lipstick also wears them — and I also think often of a great post on The Glamourai (pictured) about how to wear particularly heavy ones without ruining your clothes.
Now — this brings us to another dynamic: frump. If something was trendy many years ago and you continue to wear it after the trend has passed, are you going down the slippery slope toward frump? I tend to think of frump as being more about ill-fitting, unflattering clothes and, perhaps, a general harried demeanor (wild hair, stains/wrinkles, unintentional half-tucks), but it's an interesting question to ponder. For example, years after skinny jeans came in style, I insisted that my style was bootcut jeans, refusing to buy any skinny jeans until years into the trend. Now that bootcuts and flares are becoming trendy again, though, I see readers noting that their style is skinny jeans (or, specifically, skinny jeans with tall boots) — but that look is starting to look more and more dated to me as well. (It's interesting, as I type this and reach for a word other than frump, to realize that the phrase "out of style" is what I hear most often, but obviously it's maddening to talk about being stylish and not being "out of style" without feeling like it's devolving into an "orange orange orange orange orange" kind of situation.)
What's even more interesting is how quickly fashion trends move. When some retailers put out new clothes every few weeks, and others copy runway styles much, much faster than ever before, it feels even more like you should find your own style, rather than be a slave to trends and replace your entire wardrobe every season. So how do you cultivate style that transcends trends, without risking being thought of as "out of style"? I'm genuinely curious to hear what you guys think about it!
Here are a few specific fashion/makeup things for you to ponder — are they stylish enough to transcend trend? Does your thinking change if we contrast a "hallmark look" (think Iris Apfel and her eyeglasses, Anna Wintour's bob, Carolina Herrera and her crisp blouses) with "I thought it would be fun with this outfit"? And — when does it cross the line into an affected look, where you think, "ah, she thinks she is Miss Fashion," perhaps like with the bustiers/ties mentioned below)?