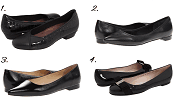 2018 Update: We still stand by this advice on what to look for in interview flats— links have also been updated below. You may also want to check out our roundup of cute flats for the office, or our Guide to Interview Suits!
What should you look for in interview flats? When, if ever, must you wear heels to an interview? Which are the most stylish kinds of flats for interviews? Reader L wonders:
I'm starting law school in August, and I've heard that heels (3-4″) are a MUST for interviewing and working at a law firm. However, I am a 6′ tall female. I never wear heels, since when I do, I tend to tower over everyone. Would it be appropriate to wear a nice pair of flats in my case?
Great question! We've talked about how to look professional in flats all the time,  how to wear heels (if you're used to flats), and whether flats are professional enough for court.  As far as shoe questions go, this is important, so even though we've talked about it a lot, I want to stress it again: you don't need to wear heels to look professional.  There are a number of reasons why you wouldn't want to wear heels — from feeling too tall (although hey, I say rock it out if you have the height!), to having foot injuries or issues, to just I-don't-wanna-itis. A few things that I would note about wearing flats for big events like interviews:
a) There are many, many, MANY professional options for flats — and there are many that look like bedroom slippers, sneakers, or other casual shoes.  Unless you have ethical objections, look for leather and suede options over faux leather or fabric (and keep your shoes well maintained!), and if you want a sleeker look, consider a slightly pointed toe.
b) Be confident when you wear them. Don't feel like you have to apologize for your flats or explain them away on an interview.  Any time any of your clothes or accessories distract you (or an interviewer), you lose.
We just rounded up a ton of good looking, professional flats from Sole Society, but here are a few more highly-rated flats that would be my first purchases if I were looking… readers, which are your favorite professional flats?  Do you think any styles of flats look more professional than others?  Do you agree with my advice that you CAN interview in flats, even if you're 6′ tall?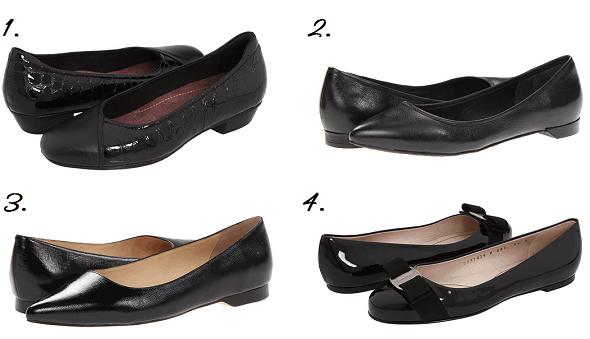 Pictured above:
With the exception of shoe number four ( Salvatore Ferragamo Varina, $525), these flats are sadly no longer available. For more inspiration, check out our Guide to Comfortable Ballet Flats.
Picture below via Stencil.