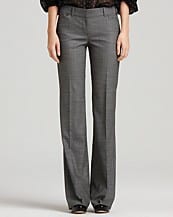 2017 Update: We still think these are some awesome wool trousers for women — but sadly most are sold out at this point! Check out our latest roundup of the best warm women's dress pants for the office.
Sure, we all know what basics professional women are supposed to have in their closets, but if you're buying one for the first time or replacing one you've worn into the ground, it can be a pain to find exactly the right incarnation in stores. In "The Hunt," we search the stores for a basic item that every woman should have.
Wool trousers are a basic if you live in a cold climate — but sometimes it seems like it's next to impossible to find a pair that is flattering in the stores.  I've rounded up a few of my favorites — I tend to prefer flat-fronted pants without cuffs, as you'll notice.  Readers, which are your favorite wool trousers?  How many seasons, in general, do you find that they last?