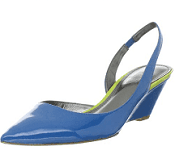 Sure, we all know what basics professional women are supposed to have in their closets, but if you're buying one for the first time or replacing one you've worn into the ground, it can be a pain to find exactly the right incarnation in stores. In "The Hunt," we search the stores for a basic item that every woman should have.
Wedges seem to be the unofficial work shoes of summer, perhaps because people walk so much more when the weather is nice — they venture farther for lunch spots, out to bars after work with coworkers, and some people even walk all the way to and from work in them. So I thought we'd round up some sleek, work-appropriate ones for today's "Hunt." To my eyes, the material of the wedge says a lot about whether it's work appropriate — cork, espadrille, even wood all look very casual to me. As always, know your office — many of these are peep toes, which are not appropriate for every office. Readers, do you prefer wedge heels in summer? Have you bought any great wedges lately (or do you swear by classics like the Kate Spade Halle or the Target Merona wedge)?

Say what you will about Aerosoles, but when you're looking for a basic like a wedge, they deliver. I like the "Plum Tree" wedge, which mixes a variety of materials so the heel and shoe are almost always different combos. I like this "mink combo" pair, with snakeskin heels and gray suede uppers, but that's me. They're priced between $29.99 and $79 at Aerosoles. Aerosoles Plum Tree
I've seen the brand "Soft Style" a lot on Zappos, but I never knew that they were affiliated with Hush Puppies until today. This one, like many others, is a peep toe, but I like the fabric/leather combination, and the bit of chain detailing across the toe is nice. While the shoe is available elsewhere, Amazon seems to have the biggest collection of sizes and colors: red, brown and black in lucky sizes from 6B-12B, all for $34.99. Soft Style by Hush Puppies Women's Resilient Pumps
Wow – I'm very impressed with the sheer number of styles the "Vail" wedge comes in. Endless has the best variety and prices, with some styles marked from $112-$195 (all on sale from the MSRP of $225). KORS Michael Kors Women's Vail Wedge Pump
Hello, gorgeous. Love the gentle curves of this Kate Spade New York pump. The pointed toe, the architectural heel, the summer suede… gorgeous. It's $298 at Nordstrom in beige and black suede; 6pm.com also has it (on sale for $165) in a leopard-printed satin. kate spade new york 'deb' pump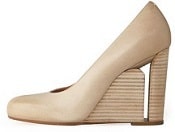 Ok, I'm breaking my own rule — I don't normally like wood wedges for the office. But come on: isn't this hilarious? I love the wit (not to mention the perfect light beige color) with these Maison Martin Margiela pumps. They're 30% off at La Garconne — were $790, now marked to $553. Maison Martin Margiela Line 22 / Heel-In-Heel Pump
Like this feature? Check out other recent installments!