Sure, we all know what basics professional women are supposed to have in their closets, but if you're buying one for the first time or replacing one you've worn into the ground, it can be a pain to find exactly the right incarnation in stores. In "The Hunt," we search the stores for a basic item that every woman should have.
Wedges seem to be the unofficial work shoes of summer, perhaps because people walk so much more when the weather is nice — they venture farther for lunch spots, out to bars after work with coworkers, and some people even walk all the way to and from work in them.
If you're trying to adjust to wearing heels again, wedges can be a great middle ground — you get the height even if you haven't mastered the balance issues that come with skinnier heels. (AND if you have your full-length trousers hemmed to work with 2-3″ heels but prefer something more comfortable for your commute, you can wear wedges and avoid having your pants hem drag on the ground.)
I still remember stories years ago about how women on the campaign trail swore by a very specific style of Kate Spade wedge heels that it was thought of as an insider's secret in DC.
So I thought we'd round up some sleek, work-appropriate wedges!
Our Latest Favorite Wedge Heels for Work
As of Dec. 2023 there are a lot of wedge heels for work lately that look great for commuting or learning to walk in heels… Nordstrom especially has a ton, as does Theory, J.Crew, and Vivaia! Some of our current favorites:
What Makes a Wedge Heel Appropriate for Work?
To my eyes, the material of the wedge says a lot about whether it's work appropriate — cork, espadrille, even wood all look very casual to me.
As always, know your office — we've seen many peep toe wedges in the past, which haven't always been appropriate for every office.
Readers, do you prefer wedge heels in summer? Have you bought any great wedges lately?

A Closer Look at Our Latest Favorite Work-Appropriate Wedges
J.Crew
These unusual wedge heels are part of the J.Crew Collection. They're made from Italian spazzolato leather, and come in sizes 5-12. They're $328.
Theory
If you like wedges, the fact that a more fashionable workwear store like Theory has some is a great sign of things to come… as of Dec. 2023 they have a number of boots, pumps, and more with wedge heels.
Vivaia
Vivaia is a smaller, newish brand that focuses on comfortable shoes, particularly for women who suffer from problems like bunions. Accordingly, they have a bunch of low, walkable heels — including wedges. They have boots and pumps with a variety of toe shapes, including pointed-toe, almond-toe, and square toe.
Prices are generally $97-$149, and the shoes are available in sizes 5-11 in a range of colors.
Trotters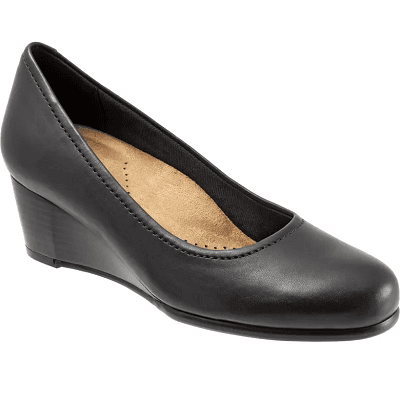 Trotters is a great brand for comfort shoes — and they often have great wedges! The pictured one is the Winnie pump, but if you want something shorter, try the Lauren pump. They're available in regular and wide sizes at Nordstrom, Zappos, and elsewhere.
Cole Haan
I was looking through Zappos recently and saw these sturdy-but-sleek wedges from Cole Haan. I like the slight circle beneath the wedge, as well as the generally narrow wedge heel.
I've pictured them in basic black (from Zappos, where they're marked from $130 down to $99), but Amazon has a ton of colors in lucky sizes down as low as $38.
Gabor
This simple wedge in gray and black looks great for work, or even as a commuting shoe. Reviewers rave about the comfort of the shoes. They're $189 at Zappos; Nordstrom has them in an additional color, navy. Gabor 35.630 Wedge
Cole Haan
The Tali wedge shoes used to be some of Cole Haan's all-time best sellers… but they seem to be on their way out. They've always won great reviews on Zappos, Amazon and Nordstrom.
Depending on the season you can find these with open toes, closed toes, some with bow details, sometimes even in the form of boots or flats. If you're looking for a comfortable, walkable, lightweight shoe, give these a try.
Like this feature? Check out other recent installments!
This post was originally written in 2012, but updated substantially in 2023 and beyond as indicated.