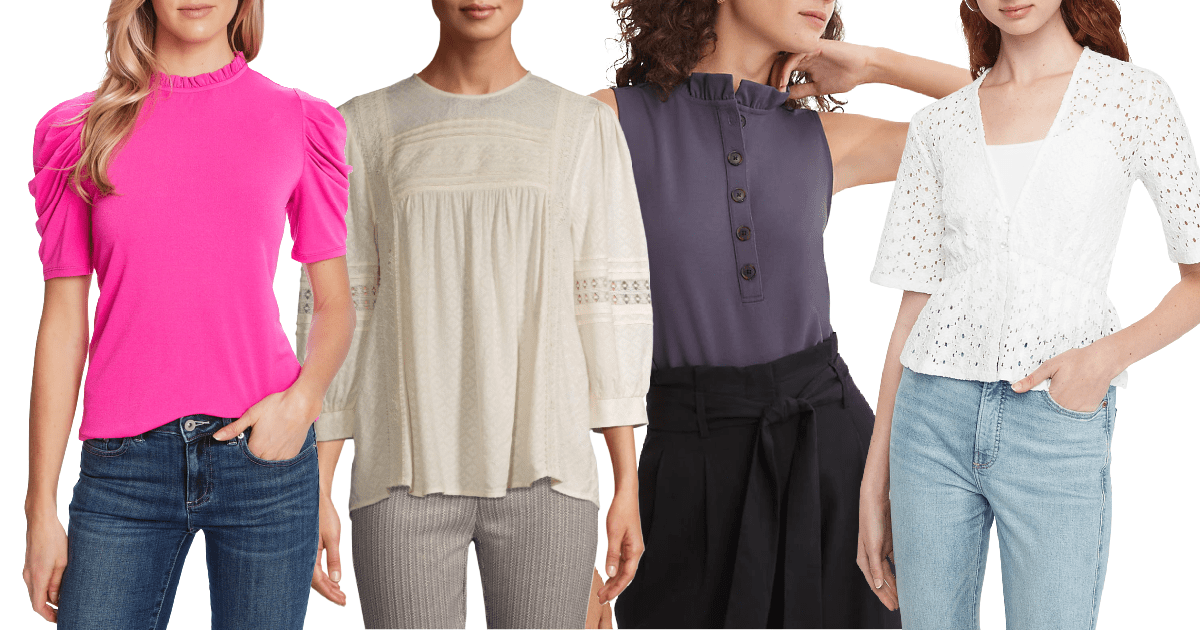 We had an interesting discussion a while ago, wondering what IS the best Zoom shirt for women (based on a NYT article about men who had Zoom shirts). Readers have had a few threadjacks on the topic, though, so I thought we'd go on a hunt for today.
Some notes on the (very different!) takes on what makes a cute Zoom top:
Some people have noted that it is "higher necked and brighter."
Some people have said they only wear V-necks because they're more flattering.
Some people say it just does not matter.
For my $.02, especially as we get into fall, think about adding an easy third piece like a substantial necklace, a cardigan or sweater blazer or even a scarf
I usually just collage the ones we've already pictured in the roundup, but there were so many nice options I thought I'd make a collage out of some of those that are only mentioned/linked below.
Above: pink / ivory / purple / white
This post contains affiliate links and Corporette® may earn commissions for purchases made through links in this post. For more details see here. Thank you so much for your support!
Some Zoom tops we've seen…
This may be the first time I've ever recommended clothing from Walmart — but for $13 this top has a lot to like for Zoom. Cute ruffles and pleats at the shoulder, nice bright color, even nice ruffled edges at your wrists if you're gesturing or adjusting on the call.
If you haven't checked out Walmart's Time & Tru brand, do take a look — it is often suggested by other bloggers as a dupe for Free People. Other affordable tops to consider: this $14 "femme lace top" and this $20 ruffled top (so happy and bright!). (This waffle tunic is a bit on the casual side but people swear by it as an affordable dupe for FP thermals.)
This cute eyelet puff top comes in white and saffron and is down to $19 today — lucky sizes only, though.
This top has a similar neck ruffle for $29, and this top also has eyelet details near the top for $29.
Fun fact: Express has an entire category now for "tops for video calls." This crocheted tank feels fun, particularly because you can add it or remove it throughout the day as you want to. After all, white can be so flattering but it doesn't always go well with the marinara in your lunch.
The above top is $29 and comes in white and black; I'm also a fan of this lace button-front peplum top, which almost looks like it functions like a cardigan. This $20 tank is a bit on the low-cut side, but I love the pleated details on the shoulder.
This madras plaid top is a bestseller at Ann Taylor and I can see why — it's such a bright, beautiful color. I think it would look great layered under a cardigan.
In fact, I think you could actually get a lot of different looks based on what color you pull out from it (assuming you have different colors for cardigans). A dark blue one would pick up the blues and make the purples pop; a hot pink one would brighten it up and make the oranges pop.
It's normally $59 but is marked to $30 today; available in regular and petite sizes XS-XL.
Other nice options at Ann Taylor: I love this bright blue flare-sleeve tee with pleated neck details; and this ruffle henley shell looks chic but effortless. The brand also has a ton of ruffle-neck options.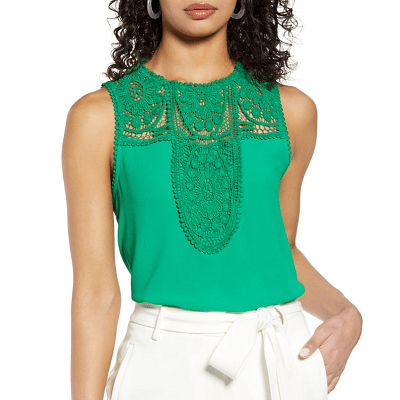 This lace and crepe top from Halogen comes in both sleeveless and long-sleeved versions — the sleeveless shell has a ton of great colors, including this cheerful green. Again, I'd do a cardigan with it because I'm always cold, but I think when everyone is back in the office it will also look great with a blazer. The tops are $59-$69 at Nordstrom.
Some other nice options: I love the tiny circles decorating the V-neck on this top from 1.State, and the pleat details on this rumpled satin shell from Vince Camuto are great for Zoom. (Also a reader favorite in the Before Times!) The button details on this silk blouse from Club Monaco are amazing, and there are a TON of tops with nice yoke details. This ruffle-sleeve top is also lovely (and comes in a zillion colors).
Finally, just a note that if you're considering adding a third piece, statement necklaces can really elevate a simple tee; a sweater blazer can also frame a top nicely.

Here are some fun statement necklaces as of Nov. 2022… Note that Alexis Bittar, Karine Sultan, Bauble Bar, Deepa Gurnani, Knotty, and even All Saints and Kendra Scott often have some nice options as well.

Readers, what kinds of tops do you consider "cute Zoom tops" if you're on the hunt? What's your Zoom look?