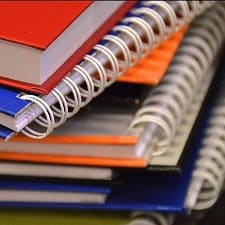 I don't know about you, but I've seen a zillion tips on how to use Evernote and other note-keeping apps — but all seem geared at freelancers or entrepreneurs.  So we thought we'd do a roundup of some top tips for busy working women, but we want to hear from you guys: DO you use Evernote or a similar system? HOW do you use it, and what are your favorite tips?
A bit of background: Evernote is a web/app-based program that is billed as being a digital brain. You can use it for almost anything: project planning; note-taking; storing and organizing things that can include to-do lists, travel details, grocery lists, and gift lists; and much more. You can organize your notes and other content into notebooks (with or without tags), clip content from ebooks and webpages, send designated types of emails to your account, create checklists and reminders, save images, save PDFs and other files (which become searchable), share content with other people, record audio, take photos and scan documents (e.g., business cards, whiteboard notes, takeout menus, product warranties, receipts), add hand-drawn pictures or handwritten notes, and sync across your devices. Evernote also works with many other applications, like Google Drive (beta), Scanner Pro, IFTTT, Pocket, and DocuSign. You can use Evernote for free (several features plus 60 MB new uploads each month) or choose one of the paid plans.
Of course, other programs are similar to Evernote — and considering the recently-announced price increase, if you want your info synced on more than two devices, now is a great time to be aware of Evernote alternatives as well, such as:
OneNote – Lifehacker just did a showdown comparing Evernote and OneNote.
Google Keep and Google Drive – Tech Republic recently discussed how to ditch Evernote in favor of Google apps.
Some of the functionality but not everything:

B-Folders – not very easy to save articles beyond copy/paste, but: very secure, includes contacts, syncs across desktops and Androids; Kat's written of her love for it for keeping track of various lists.
Pinterest – nice way to save articles or recipes for later. Con: it often only works if there's a picture in the article to pin (since it's a graphic search engine). Also, you can't make to-do lists or save things like emails.
To-do list apps like Remember the Milk, Wunderlist, Teuxdeux, Todoist, and more.
iPhone Notes app – allows you to make buying lists, recipes, and more; can access on your PC through iCloud.
Meal planning apps like Pepperplate or Cozi (family scheduling, grocery shopping, recipe keeper and more).
Here are some of our best tips for using Evernote and other similar apps — readers, what are yours?