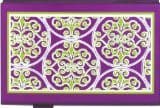 Reader H wonders whether students should get business cards…
A couple weeks ago, you did a post about stationery and handwritten notes. In the run-up to OCI, I'm wondering if I should order business cards. Many law schools offer student business cards but I personally think the branding is sort of tacky and would much rather have a plain card with my name, email, and phone number. Should students going into interview season suck it up and buy their schools' cards? Or is there a way to have a simple, stylish card of one's own (without seeming pretentious)?

I guess this is an issue many people will have in the corporate world, too, but at least once you have a job, someone else is paying for your cards… as long as I'm paying for my own cards, I want to be able to design them well, but I'm wondering what's appropriate.
I think I've mentioned my point of view here and there on the blog before, but I don't think I've ever been really clear about it: I think everybody should have business cards. Ok, not small children, but everyone else — students! people out of work! people seeking new work!  stay at home moms! In short: business cards for everybody. (Pictured: Wellspring Double Flip Case, Audrey Medallion (2420)
, available at Amazon for $5.91. Check out our previous guide to business card cases!) [Read more…]