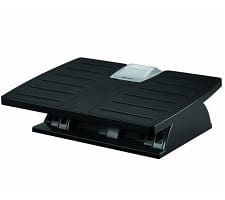 2018 Update: We still stand by this discussion of petite office ergonomics — but you may also want to check out our latest discussion of how to have better ergonomics at the office.
If you're petite and your office desk is too tall for you — enough that it's causing you pain while you work — how much is your employer required to do to make your desk/chair setup more ergonomic? What if you work at a nonprofit? Reader A asks…
I wonder if you could address what my work place is required to do regarding ergonomics? About a year ago I started a new position where I sit at a desk all day. (For the last 5 years I worked remotely meeting clients 90% of the time.) Since then I've noticed that I've been getting weird pains in my back, wrists, hips, and neck. I'm just about 5'2″ so my desk is too tall for me, my typing and monitor alignment are all wrong. If I raise the chair to the right height, my feet dangle, and resting them on the chair base caused weird hip pain (and a footrest just wasn't convenient.) I work for a nonprofit, so buying new office supplies isn't really at the top of our priority list, but can I request one for health purposes? If not, do you have another suggestion? (I live in Ohio if that matters.) Thanks for the help!
Interesting question, Reader A. We haven't talked about ergonomics in a little while, and I'm curious to hear what readers think about this, both petite and otherwise. What ergonomic hacks have you used for your office? What help have you gotten from your employer in the matter, whether officially (ergonomics consultant, ergonomics budget) or after the fact (e.g., being able to get a $36 footrest reimbursed)?  
First, though, we asked an expert for his take on Reader A's situation. Paul Krewson, OTR/L, CEAS III — an occupational therapist, ergonomist, and president of Peak Ergonomics — suggested the following: