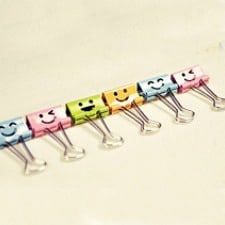 2017 Update: We still think this is a really interesting discussion of when to use cute office supplies — but you may also want to check out our most recent roundup of the best places to get cute office decor.
Our post the other day about the cute file folders got me thinking: When should a professional woman actually use cute office supplies? Should you use them only in a home office? Only for presentations? As part of a cohesive system for all of your office work? (Pictured: Smiley Face Binder Clips, $4 for 40 at Amazon.)
For my $.02, I've always loved cute office supplies — something about going to Staples or Kate's Paperie or the like takes me back to the happy feelings of back-to-school shopping. (Yeah, I was that kid.) But once I got to my law firm, this is how I actually used them: for personal things in my office only. I had a nice folder for keeping track of my CLE credits, and a nice folder for holding my old timesheets and the like — things that I filed myself and didn't need to hand off to someone else. They sat on my desk (as part of my organized office system) and made me happy — but they were but a small pop of color amidst the seas of red Redwelds, brown Bankers Boxes, and beige manila folders. It was still worth it to me to seek out pretty things and buy them, but it was just for a bit of silliness to cheer me up at the office.
Ladies, when do you use cute office supplies? Do you have a place for them in your life?