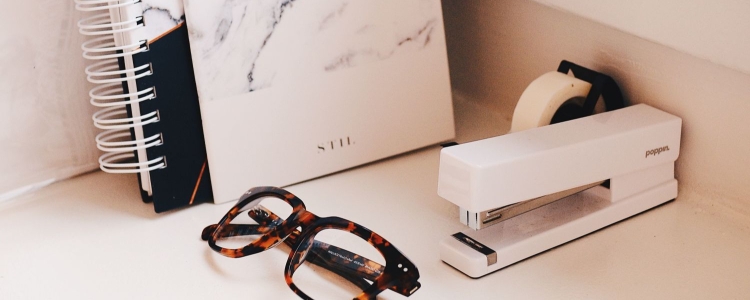 Ladies, what are your favorite easy office decor ideas? What's the first thing you do in any new office, and what ideas would you recommend to summer associates, interns, and others? Decorating your office with cute desk accessories and more can be an essential way to making your workspace happier — and giving yourself more energy.
But, if you're a summer associate, intern, on-site consultant, on a secondment, or any other kind of temporary worker, you don't want to put in a ton of effort into decorating your desk or office. So what are the top affordable, easy office decor ideas that help you avoid staring at boring blank walls or that ubiquitous cubicle-wall shade of beige-gray-tan?
Obviously, you should make sure not to damage the office in any way, such as leaving behind adhesive residue or accidentally removing paint/drywall when you remove things from the walls. You also won't want to bring too much stuff, or else by the end of your time there you won't even want to bring it all home. (Plus, it's a little weird when a temporary worker looks like they've moved in, yes?)
So what are the best ideas beyond "colorful tissue box"? (Always an option!) We thought we'd round up some great ideas for cute desk accessories and other simple, fast ways summer associates can decorate their offices.
(Update: as you see in the comments, a lot of readers bristled at the very idea of this post, noting that summer associates or interns should NEVER decorate their office. We've updated the post a bit for clarity, but it's a good reminder to know your office. )
Easy Office Decor: Office Plants and Flowers
Flowers: If you're feeling splurgey, you can also get yourself a bouquet of fresh flowers every week — they add a lot of color and fun to a room. Even a single flower in a bud vase can cheer you up! CB2 has affordable metal bud vases that should be lightweight and easily packed up, pictured below (1).
Houseplants: Small, potted plants (such as those sold at bodegas and other convenience stores) are far more affordable than weekly flowers — but look out for bugs first! (For more permanent workers choosing office plants for the long run, we have a zillion different articles on how to choose office plants on our Office Decor Pinterest board!)
Stay tuned for some of our favorite plants for the office!
Cute Desk Accessories
You'll want to choose wisely here and avoid anything that's too silly or otherwise unprofessional, but you've got plenty of options to brighten up your space:
File folders. Maybe buy a few colorful file folders (we've featured some over the years) with stripes, polka dots, or designs from Orla Kiely (pictured above, #5) or William Morris. As we've noted before, cute file folders probably shouldn't be given to people at the office, but instead used for personal folders at the office. For example, if it makes you feel happy to keep your billable hours or something else that lives at your desk inside a pretty folder, it's an easy, affordable way to bring color to your desk space.
Colorful desk accessories. A colorful mug to keep your pens and pencils in is a classic item — but note that spots like Poppin have a ton of affordable, disposable items like the cardboard boxes pictured above (4).
Mousepads. Depending on how relaxed the company is, you can use your own mousepad decorated with things like bicycles, fine art, or abstract designs. (Pictured above, #3: Van Gogh Almond Blossom Painting MousePad, $11.99.)
On the hunt for cute office supplies? As we've noted in the past, Target, Anthropologie, ShopBop, Urban Outfitters, and Amazon all have a ton of personality-infused office supplies. Some of our favorites as of 2022 include these:

Office Artwork
You have a ton of options for things to put on your bulletin board, in frames, or on the wall, including:
Family pictures. We've talked a lot about family pictures at the office over the years. Bottom line: put pictures in a nice frame, and consider the content of the photo when you're placing it — for example, if it makes you smile to see that silly picture with your brother, have it facing your desk, not your visitor. If you're a temporary worker you may want to default to a computer slideshow from Dropbox, or a single picture in a frame.
Postcards or greeting cards. These attach easily to a bulletin board and are easy to take with you and go — but they add a nice dash of color, mood, humor, and (if they were actually sent to you), a nice reminder of friends and family.
Colorful calendars. A calendar is a functional, quick, and affordable way to add a lot of color to your office quickly. Anthropologie has several cute calendar options; your local Barnes & Noble also has a ton.
Readers: Have you found some affordable, easy ways ways to decorate your office, whether you're a summer associate, an intern, or maybe just the new kid? Do you aim for color (energy!) or just a nicer decor?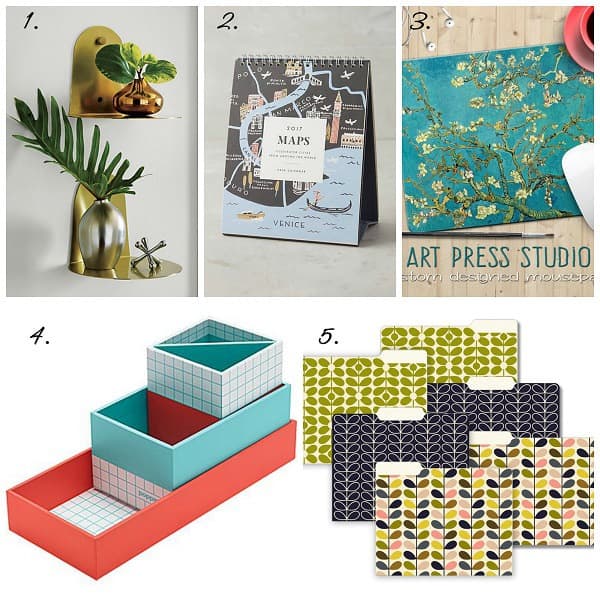 Pictured (all under $20!): 1) bud vases 2) pretty calendar 3) artsy mouse pad 4) colorful desk organizer 5) fun file folders
We are a participant in the Amazon Services LLC Associates Program, an affiliate advertising program designed to provide a means for us to earn fees by linking to Amazon.com and affiliated sites.