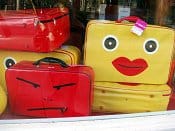 When you're preparing for work travel to a different part of the country, how do you decide just what to pack? Reader B has a question about business trips:
I find myself traveling to various cities for work and when I get there finding that I've not packed well for the weather or not brought the right makeup and/or hair products for the weather and/or water. Are you aware of any website or blog that discusses practical issues relating to getting ready for work in different cities? I have found articles about what products are popular in various parts of the country to be helpful but would like something more. Thanks.
Wow, what a great question, and I'm curious to see what readers say. Some thoughts:
Ask right here! I often see readers asking questions in the comment sections here on the TPS Reports or Coffee Breaks — so of course always feel free to come here and shout it out.
If you're attending a conference, look at pictures from previous years. I've suggested in the past that if you're traveling for a particular event you can look at pictures of past conferences, as well as call the organizers.
Wear a suit. I've also noted in the past that sometimes, this is really where the suit simplifies things — a simple black or gray pants suit (preferably bought with a matching sheath dress or pencil skirt) can take you across a wide range of climates, and if you're the one who's a little bit overdressed, that's OK… take the suit jacket off, wear the sheath dress by itself, mix the pencil skirt and pants suits with other non-suiting clothes…
Check the Weather Channel and Instagram. Increasingly Instagram is becoming useful for this kind of thing — The Muse just had a whole article about how you should dress for interviews by stalking employees on Instagram. While that may be taking it too far for a conservative industry like banking or law, you can still get a lot of information about a city, what people wear, and more via Instagram. (Of course, please follow @corporette!).
Ladies, what are your top resources if you're traveling for work and need to figure out what to wear?
Further reading:
(Pictured at top: angry suitcase, doe-eyed suitcase, originally uploaded to Flickr by molly steenson.)
—————
N.B. These substantive posts are intended to be a source of community comment on a particular topic, which readers can browse through without having to sift out a lot of unrelated comments. And so, although of course we highly value all comments by our readers, we're going to ask you to please keep your comments on topic; threadjacks will be deleted at our sole discretion and convenience. Thank you for your understanding!