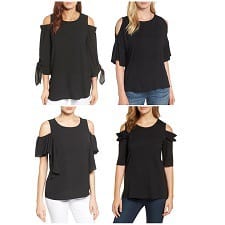 2018 Update: We still stand by this advice on whether you can wear cold shoulder tops to the office (and do NOT miss the comments from readers) — you may also want to check out our suggestions for wardrobe essentials for work, or take our free work outfit challenge with four weeks' of work outfit ideas!
Can you wear cold shoulder tops to the office? Reader L wrote in wondering whether cold shoulder tops are work-appropriate… Here's her question:
Cold shoulder tops seem to be everywhere. Are they ever appropriate in the work setting? I've seen some that would look acceptable as a sleeveless tank or cardigan (for more casual environments), but there's something about the "cold shoulder" that feels more risque.
Interesting question, Reader L! We got into this a bit in our chat about the trends we won't wear to work, but as always trends get muted and change the longer they go on, so it seems like it's deserving of a fuller discussion. I will note that a number of stores (sigh) include such styles in the "wear it to work" section. I'm curious to hear what readers say.

This post contains affiliate links and Corporette® may earn commissions for purchases made through links in this post. For more details see here. Thank you so much for your support!
Here's my thing with cold shoulder tops: setting aside the super old Superman II evil villain connotations, when I wear cold shoulder tops I kind of think of it as a sexy thing, when done right — it's a little suggestive of your clothes falling off your shoulders, no? I like them for date nights. (Hmmn, maybe the villain's look is cold elbows? Things to ponder.)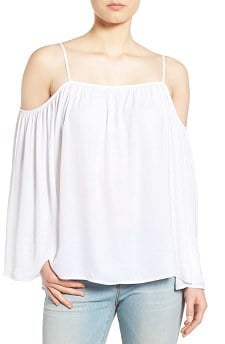 White blouse, at left: Basically an off the shoulder top but with straps. Very highly rated, super cute for a date or night out with friends, but not work appropriate because of the too-skinny straps (won't cover your bra) and let's face it, those sleeves are going to make it a bummer to type. Or write. Probably eat, too. 2018 Update: See similar tops here.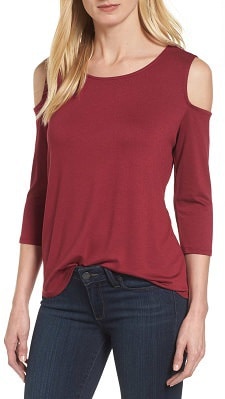 Now there are some cold shoulder tops I might say, in theory, are totally fine to wear to work — because they don't show your bra straps, don't require a new bra, don't show too much skin, don't involve lace/mesh/boudoir influences, and so forth… but then it just feels like they've sapped all of the fun out of the trend and made them into this odd hybrid of work/date/wannabe cool girl. For example, the red top featured at left: there's nothing wrong with it for work, but it doesn't even feel dressy enough work or even a casual date, either — it has more of that "playing pool with 'friends' and I really hope X notices me!" vibe. Meh. (2018 Update: If despite this commentary you are still looking for a top just like this, see similar options here.)
Here are some more options that are, in theory, work appropriate, but in the end I just kind of feel like "why"? (Especially the ruffles. I'm very rarely a fan of ruffles.)
Pictured: one / two / three / four
(2018 Update: see similar tops here.)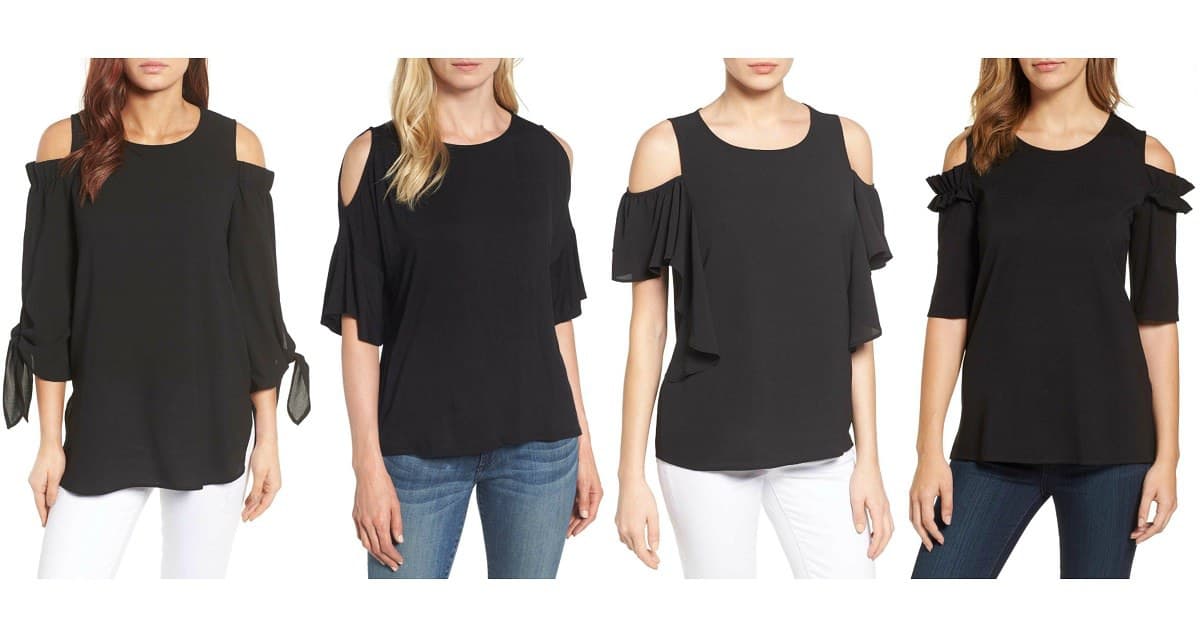 Ladies, what do you think about wearing cold shoulders to the office?
1) Do you think any cold shoulder tops can be work-appropriate, and 2) do you have any that you WEAR to the office? Or do you agree with me that it's a look better left for weekend fun?  What do you think about the white, red, and black tops featured here?