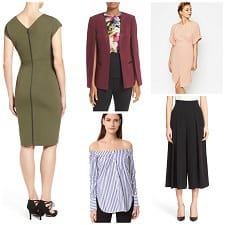 2019 Update: Check out our latest discussion on the 2019 fashion trends we hate.
I've noticed a few trends that seem to be EVERYWHERE of late, and I thought we'd discuss, if only because so many of them seem inappropriate for officewear — I'd love to hear your thoughts. What trends WON'T you wear to work? Every office is different, of course — know yours! — but it's always fascinating to hear the reasoning behind them. I was intrigued to see readers noting that any lace-up shoes (including flats) were inappropriate for their offices, if only because that feels like a trend that's been around for several years, and while I can see the sex appeal of lace-up high heels, the flats struck me as almost ho-hum. On the flip side, jumpsuits for work seem to be something that's gaining ground, with tons of readers noting that they've worn jumpsuits to the office regularly. As we've noted before regarding trends and a conservative office, we're against any trend that's body baring, illogical, or too "new."
Pictured, clockwise: Huge exposed zipper / cape blazer / high slit / culottes / off the shoulder top
We haven't talked about trends in a while, so let's discuss… Some trends I'm seeing more and more of:
high front slits in business dresses and skirts (pictured)
lace-up blouses (for example)
bodysuits (for example)
exposed zippers running completely up the back (why, Classiques Entier, why?!?)
cold shoulders / off the shoulders (pictured — even Vogue, Glamour, and WhoWhatWear admit they're not the best for the office, but I swear I've seen someone else do a tutorial on "how to wear off the shoulder tops to work")
the culotte trend that will not die (pictured)
dusters / super long cardigans (for example)
wide trousers
high waists
moto jackets for work
joggers (they've been around for a while but I think they're still a serious "know your office" item)
So let's hear it, ladies — what's off bounds for your office? What trends have you been seeing more and more around your office (either welcome or not)? Are there other, less controversial things (like kick flares, joggers, or jumpsuits) that still make you shake your head?
Pictured, clockwise: Huge exposed zipper / cape blazer / high slit / culottes / off the shoulder top