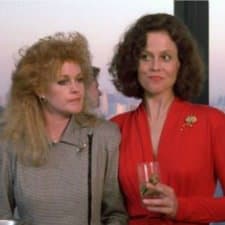 How should you respond when a coworker takes credit for your work? Reader N writes in with this great question:
Surprised I can't find this in the archives: How do you deal with a colleague (usually male) stealing your ideas, passing them off as his own in meetings with clients and/or repeating what you've said as though its his original idea? The phrase "I just said that" comes to mind, but it seems unprofessional to bicker in front of colleagues. What's a gal to do?
Great question, N — I can't wait to hear what the readers say. It's worth noting that this sort of thing has become more recognized in recent years, almost to the point of being a punchline: woman in meeting says, "Hey, how about we do X?" and is ignored; two seconds later a man is called on who says "Hey, how about we do X?" and is lauded for his great, original idea.
(Readers who can remember actual instances of this, please share — Pantene commercials? SNL? I feel like I've seen it all over the place.) A few notes about the different ways this can occur:
When he takes your idea, or takes credit for your idea in a public way
If he does it in a meeting, like the punchline example above, talk to him about it privately, and assume it was a mistake unless proven otherwise. I honestly don't know if these guys even realize they're doing it. If he shuts you down (or my favorite, acts like you're being a silly, silly girl), then possibly ask a secretary in to take notes — including who suggests things — at the next meeting.
It might also be worth a conversation with your boss, perhaps framed as a self-improvement exercise instead of a complaint. For example: "I noticed that when I recommended X it was ignored, but when Bob recommended the same thing it was met with praise — can you suggest a better way for me to present my ideas in future meetings?"
When he omits you when he gives credit
If he leaves your name off a project or acts like he did it all himself, again, talk to him privately to see if it was a mistake and to better understand what happened. I'd look at the course of the project, too, to assess how nefarious the colleague was — for example, if you were often CC:ed on emails with the boss about the project, or if they left off all but the highest ranking people from the project, I'd assume it was a mistake or just the way things are done at the company.
After all, not everyone can go on the brief or get title credits (examples), and it even can be expensive to get the entire team together for meetings or even presentations, particularly if people bill by the hour.
But: if it felt like the colleague had purposely kept me off emails, or intentionally elbowed me out so he could take credit for himself… then red flags would be raised. I'd certainly be suspicious if I worked with the colleague in the future, and I might even clearly CC: the boss on any work product I "helped" the colleague with.
(Be careful here if expenses are involved, though, particularly for a client or third party — for example, sending a memo without multiple binders or attachments should be enough to get the idea across.) Another option, depending on the circumstances, might be to go back through your emails to find a good email between you and the colleague taking credit that clearly shows your involvement — and then forward that email to everyone on the team (including the boss) with a light congratulatory message, such as, "So glad to hear the presentation went well, please let me know if you need any further help on this project!"
When he completely steals your idea / cuts you out of the process
This guy is bad news. Were it an '80s movie, he'd have a popped collar and be played by James Spader… or Sigourney Weaver. No amount of talking or light-hearted emails will remedy the situation, and my best advice would be to avoid this guy at all costs. If forced to work with him, keep a paper trail of anything you suggest.
If he looms large in your work life, start looking for a new job ASAP — and if necessary look for outside projects that clearly show what your work product looks like in case he succeeds in keeping you from growing professionally at your own job. Think charity work, professional organizations, academic writing, freelancing, consulting, and more.
Ladies, how do you respond when a coworker takes credit for your work? What have you seen work / not work in your office?
Further Reading:
How to Respond When Someone Takes Credit for Your Work [Harvard Business Review]
How to Shut Down a Colleague Who Takes Credit for Your Work [Be Leaderly]
When a Coworker Takes Credit For Your Work [Forbes]