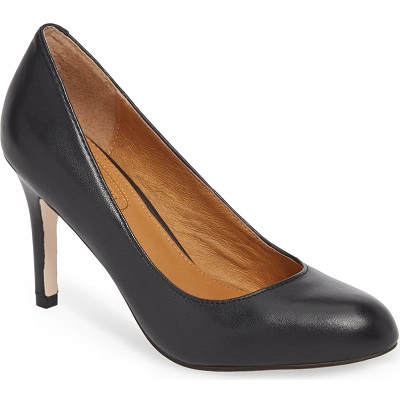 You know, we have featured this shoe a zillion times over the years in posts for The Hunt and as commentary in other posts, but we've never featured it in a dedicated post. Women love this $98 pump, and it's one of the usual suspects if you're looking for a new, basic pump for interviewing or regular office wear — and can comfortably walk in 3.5″ heels. It's available in sizes 4-12, medium and wide widths, in four colors: caramel (pictured), beige, black, and black patent. (If you're looking for a more trendy pointed toe with a slightly lower (3″) heel, try the $98 Flex pump from Kors — another highly-rated usual suspect in this price range.) Corso Como 'Del' Pump
Ladies, have you checked out our recently updated Guide to Comfortable Heels? Which are your favorite basic heels?
2019 Update: This pump may be on its way out, but you can still find it at Amazon!