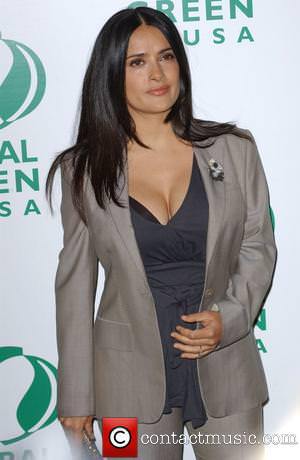 Reader H has a great question about how to dress professionally if you've got a killer body like Salma Hayek's:
One thing that I'm still wondering about (and moreso lately, as my summer internship looms) is if different rules of professional dress apply for different figures. Is it ever necessary – or desirable – to hide your shape?

For example, let's take a tailored sheath dress. I can imagine such a style looking very professional on someone with a straight figure, like Keira Knightly. But on someone with more pronounced curves, like Salma Hayek, would the same dress read as too sexy even if it fit correctly, simply by virtue of its proportions? As younger woman in the Salma Hayek camp, I'm worried that by wearing clothes that fit me right, I might end up looking all wrong. Care to weigh in? Am I just being paranoid?

You've addressed tangentially-related issues before, such as dressing too young and dressing unprofessionally (ie: too tight, too tacky, etc). But I'm not sure if you've yet touched on whether there are additional factors to be weighed beyond proper fit and appropriate formality.
We haven't covered how to dress professionally if you have curves in a long while — so let's discuss. For my $.02, the notion that you have to deliberately hide your body or dress in dowdy clothes is just not true. That said:
– Make sure your clothes — and particularly your bras — fit. First, a physical quiz. Stand up. Lean over and touch your toes. Now stand back up again. Quickly now:  tell me how many boobs you have. If the answer is "4," your bra and its fit is just not appropriate for the office. A well-fitting bra will contain the girls (on top AND on the side) without constant re-adjustments during the day. Get thee to a lingerie store that might actually carry sizes larger than a D cup or smaller than a band size 34, and ask a salesperson for help. (Be prepared to spend quite a bit of money for this endeavor — a single good bra can cost you $60 or up.)  Similarly, look at your shirts, skirts, and pants:  if your clothes are too tight, they will "smile" when you put them on, and tug at the zippers and buttons. Getting one size larger can be helpful.
– Know what your clothes are saying about you. A while back there was a lawsuit against a big bank from a woman who said she was fired for being too sexy — apparently she wore low-cut blouses, skin-tight "suits," and platform heels that emphasized her curves (some of which, if memory serves, had been surgically enhanced). I'm not saying you have to wear a muumuu, but look at yourself in the mirror and seriously appreciate what clothes are saying about you. I've always had an hourglass shape, and I've used camisoles and necklaces to raise the necklines, avoided wearing some trends (like the corset-belt trend that was in a few years ago — loved the look but I just looked too va-va-voom for the office) and reasonable heel heights that didn't make my bottom stick out more. If sweaters hug your every curve — wear an open blazer on top of them. A sweater with a looser fit can still be flattering.
– Realize that even non-sexy clothes can emphasize your curves in unprofessional ways. You'll generally know when this is happening:  for example, I remember buying a below-the-knee pencil skirt (which I actually paired with purple fishnets — ah, youth) and feeling uncomfortable in it because the long fit meant I was "wiggling" down the hall. Joy!
Readers, what are your tips for dressing professionally if you have a Salma Hayek body? What do you do, and what have you seen work/not work?