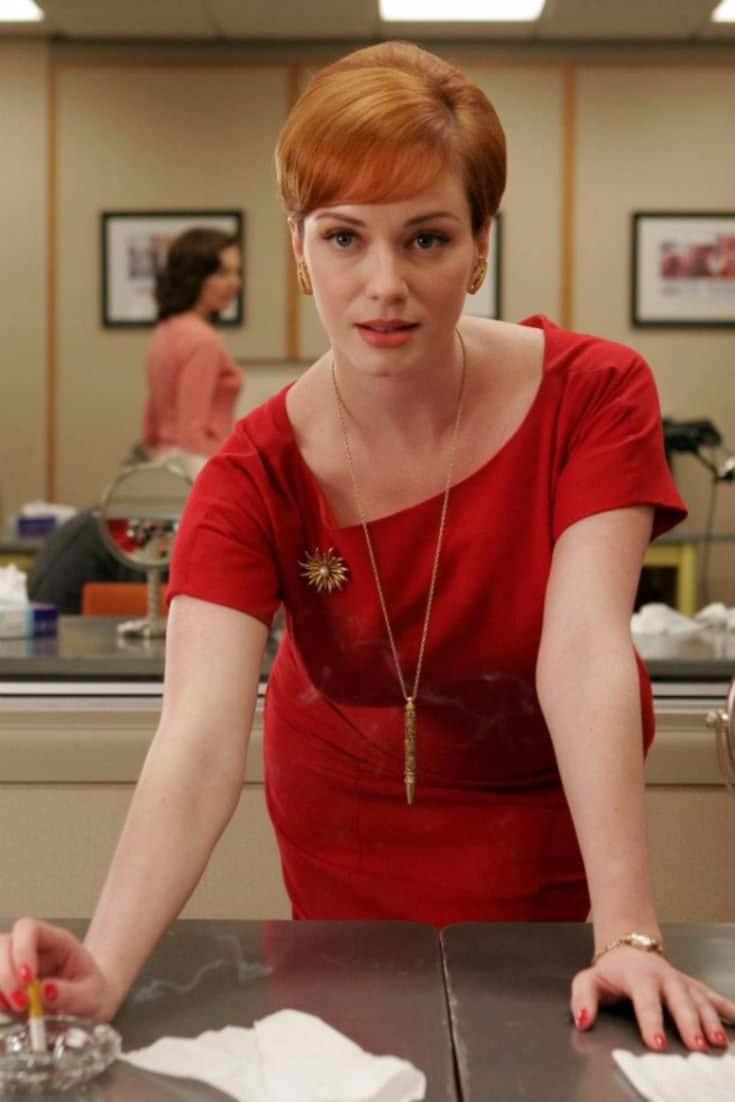 2018 Update: We still stand by these tips on dressing professionally if you're busty, but if you're a busty professional, you may want to check out some of our other content, including our most recent roundup of the best lingerie to buy at Nordstrom.
What are your best tips for dressing professionally if you're busty, ladies?
A lot of times for our daily workwear recommendations, people will note that they couldn't get away with that, as they're too well-endowed to wear a certain dress.
It's one of the sad facts of clothes that most "professional" outfits seem to be intended for women shaped more like Jackie rather than Marilyn (or Betty rather than Joan, in today's parlance). But well-endowed women have to dress professionally also! Below, some tips… Please chime in and let us know if you have any others.
1. Know your bra size. If the girls are multiplying throughout the day (and your bra is giving you the dreaded quadra-boob effect) then your cup size is too small. Alternatively, if your straps are digging into your shoulders, your band size is probably too big. Take our advice — go and get fitted at a reputable place like Nordstrom's. (The absolute best place to get fitted, in our experience? Department stores in London — they have the best range of sizes and the most knowledgeable fitters.) You may find that you're a 30F instead of a 34D.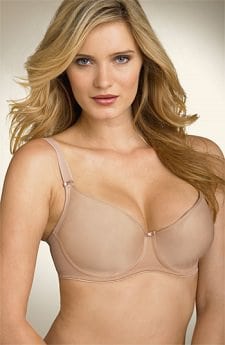 2. Wear appropriate bras for work. You may think that a lacy balconette is fine to wear beneath your suits — after all, your boss doesn't see it. (Or so we hope.) But your goal with underpinnings should be to minimize distractions — a balconette bra might let things bounce around while you're rushing down the hall to your next meeting (not a terribly pretty — or professional — sight), or the lace pattern might show through your otherwise tasteful shirt. Aim for seamless bras wherever possible, with full coverage. Again, make sure that your bra fits and isn't creating quadra- or sexta-boobage. Some favorites include this Fantasie bra (pictured) and Le Mystère bra. (2017 Update: Here's our best advice on bra care, and here's our last discussion on lingerie for office looks.)
3. Minimize if you still feel uncomfortable. If you're wearing the right size and an appropriately modest bra for work, and you're still feeling too busty, you may want to look into a minimizer. Our $.02: in our experience these are uncomfortable for the day where it's going to be a long haul, and your breasts tend to look less natural. But it may make you feel better, sartorially speaking. (2020 Update: Looking for crazy comfortable bras? These are some of my favorites, as noted in our roundup of the most comfortable bras for working from home:

Pictured above: gray / black / white / navy / pink
4. Know your neckline. The Jackies and Betties of the world can wear the crew necks and the mock turtlenecks — those styles really are not flattering on the Marilyns and the Jackies of the world. If you fall into the latter camp, you still have a wide selection — v-necks, scoopnecks, boat necks, cowl necks, and — if accesorized correctly — turtlenecks. (A button-down shirt, open at the collar, creates the effect of a v-neck.) Most of these look great beneath suits (the exception being the boatneck, which looks better on its own).
5. Raise the eyeline in artificial ways. If you're well-endowed and trying to be professional, the last thing you want is to draw anyone's eye to your cleavage. If you're wearing a v-neck that dips a bit low for work, first add a camisole. Go for something plain — not lacy — that will raise the neckline and cling to your chest (and not gape open). Ann Taylor Loft makes some good ones; we're also fans of Old Navy's simple cotton camisoles (pictured). (You can also check out our 2016 guide to the best camisoles for work; most of the best styles have been around for years!) (Another tip: never wear a nude camisole — you don't want people wondering if that's your skin or a camisole they're seeing. Go for white or black if you don't have one that matches or compliments your top.) You can also use accessories to draw the eye upwards — a pair of pearls that stops below your clavicle tends to draw the eyes there; a brooch placed on your shoulder also tends to draw the eye there. Avoid pendants or long necklaces that hit you at your bust's widest point.
6. If you're busty, you may find that you prefer tops that have no buttons — t-shirts and sweaters don't gape open, after all. If you find that sweaters hug your curves a bit too much, try for a silky camisole beneath them — it makes everything lay better. (A cotton camisole will just stick to the sweater.) (2017 Update: If you find you want button-front shirts or tops are incredibly difficult for you to fit, you may want to check out our latest roundup of the best dress shirts for women with large breasts.)
7. When buying things, buy them to fit your bust. If a button-down blouse is gaping in your chest, it's never going to look right — just buy the next size (or two) bigger and then get it tailored. Similarly, with dresses — if the girls are smooshed then the dress will never fit properly. (You can try it with a minimizer, but trust us — just get the next size bigger.) 2017 update: there are a ton of newer brands that are built for well-endowed women; we've rounded up the best busty blouses, blazers for curves, and bespoke dresses (many where you can apply your own measurements to the dress before you order). Old favorites include David Meister dresses, Tahari, Elie Tahari, and Ann Taylor.
8. Know your proportions. If your figure is an hourglass, do your best to work within that shape — even if you long to wear A-line skirts, a pencil skirt may be more flattering. Similarly, if you're more of an inverted triangle — large on top with slender hips (or not much of a waist) you may want to try to wear an A-line skirt, to balance the top. You may find that wearing outfits of entirely one color are more flattering. Many, many articles have been written about this — you may want to check out What Not to Wear's Fashion Tips for the Hard to Fit, or Happygrrls' quiz, What Body Type Are You? We're also partial to Jezebel's Sadie's tips on finding your personal style by finding an era in which your body type was in vogue.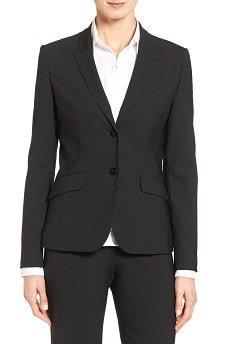 9. Buy suits with multiple buttons. When suit shopping, look for suits with at least two or three buttons on them — a higher closure will mean your bust is more covered. Avoid suits with a single button in the middle. (If you're considering a double-breasted suit, please put it down, and stop shopping until the urge passes.) (Pictured.)
10. Try to find a professionally-dressed woman with your body type and watch her, both to get inspiration for outfits for yourself, as well as to learn which things don't look good. Examples: Oprah. Karen on Will & Grace (sometimes too sexy, sometimes just right). Maria Bartiromo. We'll try to keep thinking of suggestions…