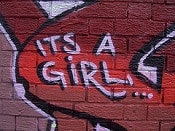 Reader M has a question about gender-neutral names…
I am a new practicing attorney with a gender-neutral name. I've been in practice since October (4 months) and have already received at least 10 correspondences addressed to "Mr. Last Name." Aside from making a phone call to the offending party and changing the footer in my email to all pink, is there a way to politely correct individuals about my gender?
Excellent question! I think you have a few options. (Pictured: It's a girl!… originally uploaded to Flickr by duncan.) The obvious one, sadly, is to not care so much — after all, the issue will be resolved if the correspondence continues, and the egg is really on the other party's face right now. But you can do a few things to improve the odds of getting a properly-addressed correspondence, particularly if the other party cares about these things:
First, make sure you have a picture on your company's website (if it isn't already mandatory). Check out some of our previous advice on how to take a good corporate headshot here. If you don't have a photo, but have a bio, do your best to use your preferred pronoun. "Ms. ____ recently wrote these three articles."
Second, manage your online presence. Sign up for Linked In and attach a picture to the account, and make your profile picture on Facebook visible. A lot of people might Google your name to see information about you.
Third, leave a message with your own voice. (If you're currently using the automated voicemail (or having your secretary record your messages), stop that!) This will help the people who secretly call after hours (or call the operator and ask for your voicemail) to ascertain the pronunciation of a name or even the sex.
Fourth, talk with your secretary about the problem — ask him or her to please very clearly state, "Miss ____'s office" when she picks up the phone.
If you're doing all of this already, here's one final suggestion: begin using your middle name. "Shawn Ann" or "Leslie Marie" might seem longish, but it will go a long way towards cluing people in to your gender. Another twist on this is to have your signature line say "Ms. ____" instead of just your name.
Readers, how do you think reader M should deal with her gender neutral name problem?
Update: There's an interesting debate going on in the comments about Miss, Mrs., and Ms. For my $.02: Even now that I'm married, if this were my situation (where you want to clarify something right off the bat), I might ask my secretary to say "Miss Griffin's Office" because "Miss" is the crispest and clearest over the phone — particularly if you're dealing with secretary who may have an accent. No one will mistake "Miss" for "Mr.," but not a lot of people will necessarily read "Oooh, single lady" into it either. That said, I would use "Ms." in every other instance in the working world. (And hey, maybe I'm weird, but yes, I would take offense if someone called me "Mrs. Griffin" in a business context, unless I were very recently married.)