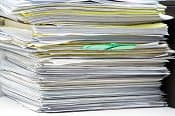 We are doing a major declutter of our apartment, and I just feel completely scatterbrained because of it. We donated a good chunk of stuff to charity a week or two ago, I have a ThredUP bag filled and ready to go, and yesterday some eBay auctions ended, so I've been scrambling today trying to get packages out to people. (The last time we did a major declutter we talked about eBaying and selling your old stuff, as well as what the best stuff to buy on eBay is; we've also talked about thrifting for workwear.)  
{related: how often you should declutter your wardrobe}
We are trying to get rid of a ton of baby stuff via the local parents' listserv, first offering it for sale and then issuing curb alerts, which requires more email management. (The woman who sent her nanny to pick up the Bumbo this morning sent like 10 texts, which is fine, but considering it was a $5 sale, the drain on my attention was less than good.)  
{related: where to recycle, sell, or donate your old work clothes}
It is a colossal waste of time, when looked at per hour. And here's the thing that I've been asking myself all morning:  Why do I feel obliged to do this, make "use" of stuff we no longer want? Why am I not just walking it to the trash chute/garbage room and disposing of it? I answer myself with these thoughts:
I/we loved these items once (or at least thought enough of them to hold on to them for a thousand years), and I would like to see them go to good "homes"
It is wasteful to just throw stuff away. (In fact, honestly, I would even use the word "sinful" — it feels sinful to throw stuff away.)
If we get $100 or $200 out of the $1000s of dollars of things we no longer want, then hey, it's a meal!
But it's starting to feel hugely wasteful in terms of my time. The things that don't sell will require research. I have to research how to dispose of electronics in NYC (such as, say, my old TiVo from 2003). I had the idea this morning that I should see if we can donate some of the old toys (the Snugabunny swing! The rainforest bouncy chair!) that don't sell — but researching that, and then schlepping the items somewhere (not to mention inventorying them, estimating prices for tax purposes, and so forth) seems like an even bigger waste of time. (And some of those involve electronics that may require special disposal also.) This is, after all, our old stuff.
This is actually a pretty big topic right now, of course — our decluttering isn't so much inspired by Marie Kondo's book, but of course I am aware of it, and the general thesis that if an item in your home doesn't spark joy, you should get rid of it. But how should you get rid of it? How do you walk the line between being environmental/respectful of your old things– and being respectful of your own time? Why does it seem so "sinful" just to throw stuff out, even if I know that that is largely what happens with many "donated" items? (See, for example, this Slate article.)
Ladies, what are your thoughts? When you declutter, what do you do with your old stuff?
Pictured: Shutterstock/Anneka. 
This post contains affiliate links and Corporette® may earn commissions for purchases made through links in this post. For more details see here. Thank you so much for your support!
Psst: some of our favorite books on cleaning:

Some of our latest posts here at Corporette on this topic…
We are a participant in the Amazon Services LLC Associates Program, an affiliate advertising program designed to provide a means for us to earn fees by linking to Amazon.com and affiliated sites.