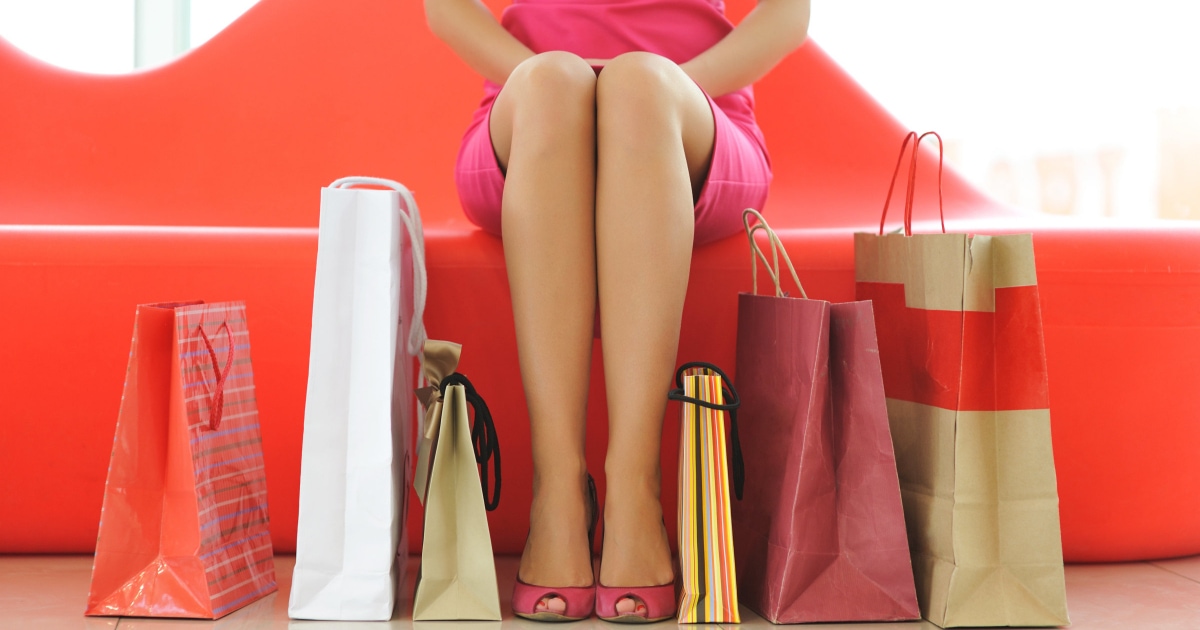 Here's a question we haven't discussed in a while — do you prefer to shop online, or in-store? Which experiences and stores are your favorites, and why? We've talked a lot about shopping advice in the past, such as our favorite online stores and the best online shopping apps, but it's been a while…
To help direct the discussion, here are the questions:
1) Do you prefer to shop in store or online?

2) What shopping experiences do you LOVE?

3) Have you had any particularly bad shopping experiences, online or in person?

4) Have you had any surprisingly good shopping experiences, online or in person?
For me, I hugely prefer shopping online to in store, but that has more to do with sizing issues for me — I may be in petite sizes or regular sizes, and for bras most US stores don't even sell my size, so shopping online tends to offer more options for me for a lot of that stuff. I always used to prefer shopping for shoes in person, but I just did some massive shopping through Zappos (trying to find a comfortable, heeled sandal for a wedding I attended in August), and doing it in person it would have taken the patience of saint to wait on me and help me with all the different sizes and requests. (For example, one shoe I got in two colors and three sizes. Whee!) The Zappos returns process was easy, I could mix my returns, and half of the returned money is already back on my credit card.
The biggest downside for me for my top shopping locations (Nordstrom and Amazon for sure, with a ton of returns to Zappos recently) is making sure that all of the money is back on my credit card — it can be really, really difficult. I started a new system where I keep a spreadsheet of what I'm returning, the amount of money expected back on my card, and then I download the mailing label to my computer with a unique identifier (so, say it's September 15 return to Nordstrom, my return label would be called n915.1) — just so if I ever need to check on a package's tracking (or what was inside) I have a record of it. Anyway, I just got my credit card statement and not a single number matches the amount I was expecting to be returned, which makes me wonder if they scanned items individually or in odd orders. (So I'm wondering, if I returned 3 items from Order X and expected, say $100 back, if they scanned item by itself for $25 and 2 items together for $75, so instead of seeing $100 on my credit card statement I'm seeing two line items for $25 and $75.) To make matters even more complicated (because why not) I've been trying to use my Nordstrom card for more purchases instead of my credit card, so money may be going to different places. Sigh. (Any tips on making sure money for returns goes back on your account, ladies?)
It's funny how a negative shopping experience, even a few years ago, will still taint my view of things now. For example, the last time I went to Macy's in person, the 34th street location (in NYC) was undergoing renovations, a heavy construction smell hung in the air, everything had moved around entirely from the last time I was there. To make matters worse, there was a heavy thumpa-thumpa music playing even outside of the teenage sections, which really bugged me the day I was there. I haven't been back since, and every time I go to their website for blog-related purposes it seems poorly organized and overwhelming. Similarly, I once spent an hour or two on Lord & Taylor's website picking out a ton of nice tops for my mother to try for her birthday — there is no L&T where she lives so I thought it would be a different variety of things than she had seen. I attempted to check out and… it cleared my cart of the 10 or so tops I had put in. I tried to get it back, but to no avail. (Fun fact: before I started this blog, I hated shopping at Nordstrom in person — all of those different lifestyle-based sections did not make sense to me.)
This post contains affiliate links and Corporette® may earn commissions for purchases made through links in this post. For more details see here. Thank you so much for your support!
I did have two surprisingly great shopping experiences lately. The first was with eShakti, which again was part of my crazy buying spree hunting for nice wedding guest attire — I probably ordered 10 dresses. (I didn't do custom sizing, just picked the best off the rack size I could based on some quick measurements.) I kept two dresses plus a top — so I returned a bunch — but everything was better made than I expected, and I loved being able to customize the necklines and pockets and still return things. (For every dress I told them I was 5'4, but many of them seemed a smidge too long — so I would probably do custom sizing next time just to correct what may be a short/long torso issue.) The returns were easy, and I already got a message saying they'd been received and to expect money back on my card. (You pay $10 for each "customized style" that is nonrefundable, but I liked the experience enough to not mind.)
The other nice shopping experience was with Glossier — I had ordered two colors of Cloud Paint to try, and then completely forgotten about that when only one arrived. Then when I decided I didn't like that one, I found myself one day over the return policy's limit — and realized I had never received the second color. Customer service was really helpful and told me they'd send the second one out right away, would credit me for the first one I didn't like, and I could do what I wanted with the old tube. (Verdict: wish I'd gone with a lighter shade, but I didn't want to duplicate my favorite Guerlain cheek tint.)
Readers, how about you — where do you like to shop best, online or in stores? Have you had any bad shopping experiences? What recent shopping experiences have surprised you, hopefully in a positive way?
Stock photo via Shutterstock / haveseen.