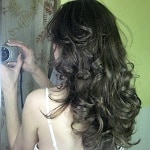 Update: We still stand by this advice on whether long hair makes you look younger, but you may also want to check out our more recent discussion of how to be taken seriously when you look young. You may also want to check out our best advice for office hairstyles.
Reader A has an interesting question about the perennial problem of looking too young…particularly, she wonders, does long hair make you look younger?
I'll be spending this summer in my Michigan hometown working as a student ADA. They've even promised to let me try some misdemeanors. My problem is that I will be working in a very small town where many of the people knew me as a child. Furthermore, despite my conservative and classy attire (thanks for your help on that!) people still guess I am a mature 20 year old, rather than the 26.5 year old I really am! I've decided that the problem might be my long hair, which falls approximately in the middle of my back. My boyfriend, like most guys, doesn't want me to cut my hair into an "old lady hairstyle." Can you recommend an appropriate place between sorority girl and dowdy matron? How long is too long?
Hair is a highly personal thing — it really depends on the woman, her stature, how she carries herself, and more. Most will tell you that a length somewhere between your shoulders and the top of your bra strap in the back is acceptable. Some women look great with it longer than that; some don't.
(For this author, for example, hair that reaches the bottom of my bra strap makes me look as if I'm headed to Woodstock.) 
We would also suggest you consider your makeup carefully for the summer — a bare face can look just as young as an overdone face, as readers have noted previously.
(Pictured:  Long Hair, originally uploaded to Flickr by madaise.)
If you really don't want to cut any of your hair, we would advise you to learn how to put it up in a way that is professional yet flattering.
For example, we've written before of our love for the low ponytail tucked-into-itself, and we recently(ish) saw the blogger at I Am Style-ish describe how she did a big bun.
Real Simple also recently described how to do a "quick" French twist and YouTube is filled with women talking about their hair, in depth. Even just a big claw can help you pull your hair up in a way that's flattering.
If you do end up deciding to cut your hair, please consider donating it — you have to cut at least 8″, but it can make a difference in someone's life.
Readers, how long do you think is too long? What are your favorite up-dos for the office? Where do you fall in the "does long hair make you look younger" debate?