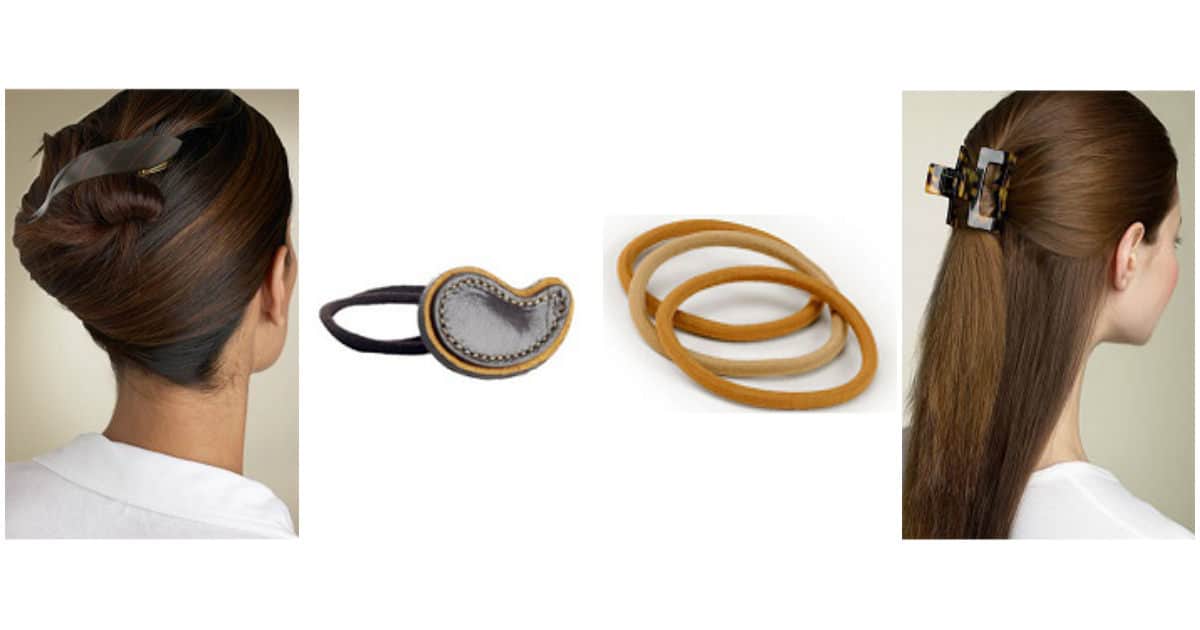 2018 Update: Hunting the best hair accessories for professional women? You may want to check out our recent discussion on hair accessories for grown women.
About a week ago, we asked what kind of hair accessories were appropriate for the office. As always, the poll is still open, but the preliminary results are in — roughly 50% of you said that as long as the 'do and the accessory was conservative, anything was ok as long as it worked for you, including jeweled elastic bands, claws, headbands, and more. Another 34% of you thought that "fanciful minimal" best described it — simple, hair-colored type accessories from J.Crew. 13% of you thought bare minimal was best for the office — to the point that the elastic holding your hair back should match your hair color. Only 3% said that anything went, including the feathered headband we'd used to illustrate the quiz.
Commenters lauded a ton of different brands for hair accessories for professional women, including: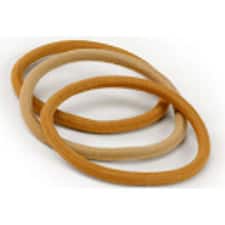 Goody Colour Collection was designed to match any color hair. Available at drugstores like Walgreens, Duane Reade, and Target (with limited availability at drugstore.com). Their collection includes pretty much everything you can think of — bobbypins, elastics, claws, clips, barrettes, and so forth. Pictured above: elastics for blonde hair.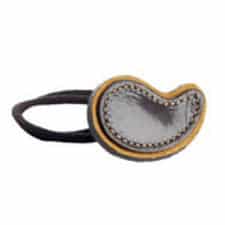 One of our favorite brands has always been Colette Malouf. Available at Bergdorf Goodman, Henri Bendel, and other boutiques, the twice-yearly sample sale in New York is well worth a trip if you can spare the time. (This is one of the only brands we'll trust for more fanciful things — we're a bit bummed we couldn't find a picture to illustrate some of the more understated yet beautiful elastics and accessories with things like felt flowers and multi-colored glass. Pictured above: Brown leather teardrop ponytail holder, was $63, now $19 at Bluefly.com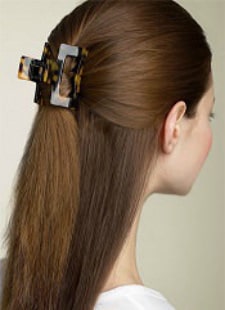 A number of readers extolled the greatness of France Luxe, a brand we previously were unaware of. Sold at Nordstrom, a number of readers noted the "excellent quality" as well as the "comfort and durability." Above: France Luxe Cutout Jaw Clip
, available at Nordstrom.com for $34.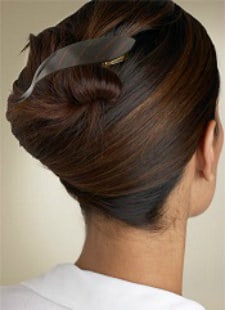 While we're mentioning Nordstrom, we will note that it seems to have the best online selection of work-appropriate clips and barrettes and claws. Check out, for example, Ficcare 'Maximas' Hair Clip
(pictured above).
Honorable mentions for where to look for hair accessories for professional women:
Other places to check for great hair accessories include J.Crew and H&M (surprisingly, neither have much online in this department!).
Readers, which are your favorite hair accessories for professional women? Let us know!