We talk a lot about work-appropriate hair on this blog… so if you're anything like me, you've probably amassed a pretty big collection of hair accessories.  Maybe you use all of the pieces in your collection regularly, but for me, most of it just creates massive clutter. As someone who has no drawers in my bathroom and limited storage space in general, I've had to develop a few secrets for organizing my different hair and jewelry accessories.  So I thought I'd share…
1. Use one doorknob in your home to hold extra ponytail bands.  I tend to keep 4-8 on the inside bathroom doorknob, and I always know where to find one when I need it (and where to put them when I find them laying in random places around the house). (I'm talking about this kind of thing: Goody Ouchless Hair Elastics
.)
2. Tie a scarf in your closet vertically and clip those big claw clips
to it.  I don't wear these often, but it always seemed like I was tripping over them elsewhere in my house.  At the bottom, I tied a knot around the rolled-up sock I sometimes use for a sock bun.
3. (Especially if you're curly): Get a scarf or a fabric belt and use it to hold your Spin Pins, duck clips, bobby pins, and more.  I've pictured mine — it's actually a belt from a robe that I never use, and the silky polyester is the perfect thickness for holding these things.  I just tied it around one of the towel bars in my bathroom.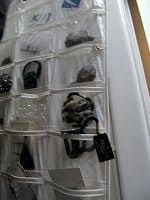 4. Store your favorite decorative hair accessories — ponytail ties, barrettes, and more — in a jewelry hanger in your closet, to keep them in sight but not in the way. For the really pretty ones it helps to remember what you've got. (Sorry for my shoddy photography: those are some of my favorite France Luxe hair ties, mixed in with some of my necklaces wrapped around business cards. This jewelry hanger on Amazon is similar: Household Essentials 80-Pocket Hanging Jewelry and Accessories Organizer, White Vinyl
.)
5. Use a large makeup bag to keep all of those other hair supplies that you buy and never use.  I have so many different decorative pins, clips, sticks, etc… not to mention various "supplies" like bobby pins, etc.  Some of them I bought years ago, some of them just weren't what I was looking for, some of them are things that I think I might be looking for in the future… On the rare occasion that I need to find something, I dump the whole thing out on my bed or table and hunt through it — but beyond that it's out of sight, out of mind.