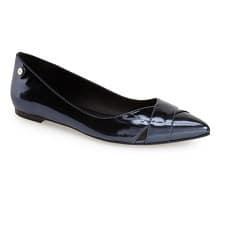 These well-reviewed Calvin Klein flats are on sale at Nordstrom: some colors are $68, down from $99. (Oooh, and Amazon has some as low as $38!) I think the pointy toe looks sleek, and of course I am a sucker for a cutout.  Of the sale items I like the pictured navy shoe the best (oddly, the color is listed as "teal leather"), but there are lots of other colors if you're not a fan. (This matte textured black version is my favorite, but of course it's full price.)  Gailia Flats
Along similar lines – I don't remember why I'm on this company's mailing list, but these new pointy flats from Rothy do look nice.
Ladies, which are your favorite brands and styles of comfortable flats?  I need to update our guide to comfortable heels soon, but I know a lot of readers feel more strongly towards flats.