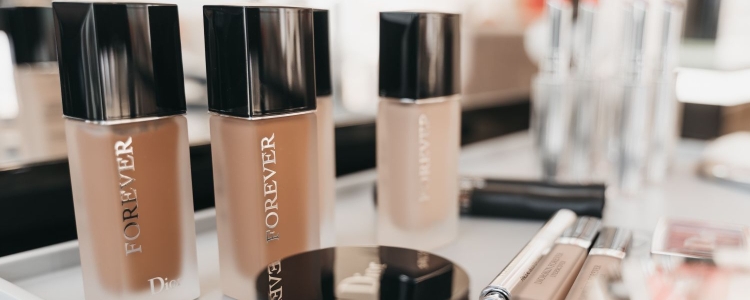 Are you wearing foundation, BB cream, tinted moisturizer, concealer in specific areas — or nothing? Elizabeth just had a fun discussion with friends about this issue, so we asked her to share it with us! Today's "this or that" question: what are you wearing (if anything) for makeup? How much does the answer change based on situation, i.e., how different are your makeup looks for different occasions?
[For my $.02, I just wear concealer under my eyes — it has to be a Very Fancy Makeup Situation before I'll pull out foundation. — Kat]
This is a fun question that was sparked by a group text among my college friends. After 18 months of working from home, what kind of makeup are people wearing when they leave the house? Specifically, one of my friends wondered, what was she supposed to put on her face when the foundation that she had used for years was discontinued and she had no interest in going to Sephora to see what else was out there?
The general consensus was that none of us were wearing full-coverage foundation anymore. Oddly enough, as we've gotten older and would presumably have more about our skin that we wanted to cover up, everyone was leaning towards tinted moisturizers/BB creams or nothing at all. I'm not bold enough to suggest that my tiny focus group of six women in their late 30s is representative of the population as a whole, but my sense is that lots of people, particularly in the 35+ age range, are giving up on full-coverage foundation these days.
Personally, I just can't be bothered to put on a heavy foundation that's just going to come off when I put on a mask. And even if I weren't wearing a mask, my skin has never looked better than it does now (thanks, IPL photofacials and Vitamin C serums!), so I'm not inclined to spend time putting on more than a tinted moisturizer in the morning. On the other hand, I have spent some time on TikTok and am genuinely impressed at the makeup skills of the Gen Zers who manage to put on a full face before the school bus picks them up in the morning.
Readers, over to you! Are you wearing a full-coverage foundation? A light-coverage CC cream? Tinted moisturizer? Nothing at all?
For what it's worth, my daily tinted moisturizer is from Laura Mercier. For a bit more coverage, I also like the IT Cosmetics CC cream. For a medium coverage (the absolute most I'll do these days), the Urban Decay Stay Naked Weightless Foundation is my favorite.
This post contains affiliate links and Corporette® may earn commissions for purchases made through links in this post. For more details see here. Thank you so much for your support!