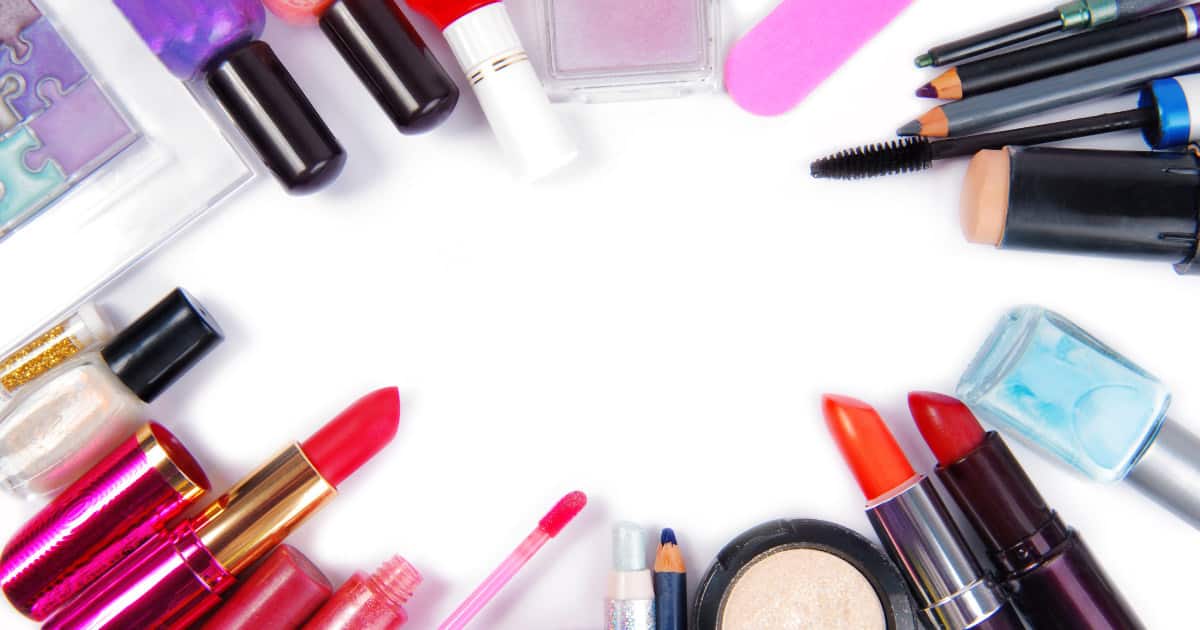 Sept. 22, 2023 Update: There's a big Nordstrom sale on beauty right now, and lots of reader favorites that never go on sale are on sale now! (Also, cardholders get 3x points through 9/24!)
How many different makeup looks for different occasions do you have?
I was going out somewhere recently, and I overshot the mark on makeup — I wanted to do more than my daily makeup look, but less than my evening/date night/party look, and landed up far too close to my "party look."
So I got curious, and thought it might be a fun discussion for today: how much do you vary your makeup for different occasions — and how much do you vary your looks within those situations?
For example, do you always have the exact same office makeup look, or do you mix it up with different products and colors? How wide is your range with makeup — for example, from "no makeup for errands" to "four eyeshadows and three mascaras for date night"?
For my $.02, I have a pretty wide spectrum of makeup looks for different occasions — possibly too wide!
All My Makeup Looks for Different Occasions
Weekend/Errands/Lounging Makeup
When I was younger I do seem to recall putting on some makeup once I'd finished with my workout, even if I didn't plan on leaving the house.
I have never been the kind of person to put on makeup for workouts, though (fiiine, maybe some tinted lip balm) and by my 20s I spent a lot of my weekends avoiding workouts (you know, the 9 AM planned workout that happens at the last possible moment before you have to start getting ready to go out), so by that time weekend makeup became "no makeup / PARTY MAKEUP."
These days I really have no compunction about going out without makeup, though, particularly if it's a school dropoff or weekend kid-related errand. (I consider myself #winning so long as I can wash my face and get sunscreen on!)
Daily Makeup (Office Makeup)
As I've written before, makeup for work for me generally means concealer, eyebrow, eyeliner, one color of eyeshadow, mascara, blush, lip liner, lipstick.
I tend to have set makeup combinations of eyeliner/eyeshadow/lipstick (so I wear taupe lipstick with greige eyeshadows, but pink lipstick with taupe eyeshadows, for example), but always the same general products applied in the same general way and no more than two or three looks.
Work-from-Home Makeup
When I only worked from home occasionally, this generally meant "no makeup."
When I started working from home all the time, though, I struggled with this a bit because I had read all this stuff about how if you're working from home you should "get dressed as if you're going into the office," and it conflicted with my previous "no makeup" mentality.
Even if I had successfully completed a workout, if it was just me, why should I put on makeup? It all came down to "who am I wearing makeup for anyway"?
For some reason, after having kids, daily mascara irritates my eyes, so I didn't want to do a "full office makeup look," or at least what that had meant for me previously. I also switched to wearing glasses about 95% of the time around this point, which I also felt necessitated less makeup.
(Fun fact: I have uneven eyebrows no mater how much I get them threaded, so when I'm in my glasses the uneven eyebrows are more noticeable, particularly if I darken them with eyebrow powder/gel/liner. But if I'm wearing contacts I absolutely feel like I need to darken them. Shrug.)
What I've settled on lately for ease of application but a bit more polished than absolutely no makeup is sheer lipstick like a Chubby stick, blush, undereye concealer, waterproof eyeliner, and occasionally a liquid shadow. The routine takes me about two minutes, maybe less.
Even now I alternate between three eyeliner colors and different lipstick colors — I wear the brown eyeliner with pinky/berry/purple lipstick and navy eyeliner with taupe lipstick. I'd like to get gray eyeliner in the routine but the current one I have smudges too much; I'm eyeing this one from Chanel, which I have in brown and is amazing.)
Big Presentation and Job Interview Makeup
These are times when you want to feel extra confident in your makeup — but you don't want to have a party look. So this is the makeup I'd wear fo ra big presentation or a job interview.
For a midday meeting or something, at the very least I put on mascara, refresh my eyeliner and use Touche Eclat on top of my work from home makeup.
If I'm starting from a fresh face, though, I'll put on foundation in addition to concealer, do a little contouring/highlighting, maybe pull out two eyeshadow colors to blend, eyebrow, mascara, blush, and eyeliner.
(Loooove the Ecobrow eyebrow wax for these days.)
Date Night or Party Makeup
This is where I deviate from what is, in general, a fairly natural look — I like a smoky eye, what can I say? I usually do foundation, concealer, contouring/highlighting/blush, eyeshadow primer, 2-4 eyeshadows (generally all in the same color family), dark eyeliner on top (usually with an added swoop of dark black or dark navy shadow on top of the liner to set it), light eyeliner below my eye (taupey/fawn usually but maybe a faded gray/navy if I'm feeling like it) and usually a pretty neutral lip that somehow takes extra long to apply.
I may do a mascara primer as well as mascara (sometimes even layers of different mascaras!), or I may do my One Two Cosmetics lashes. Sometimes I give my husband a choice for the general shadow look ("honey, pick brown, black, purple, or blue") — sometimes I give my 7-year-old son the choice.
I have fun with the date night/party makeup and it's fun to see myself all dolled up — but it's a TON more makeup than I normally wear and I worry it's jarring to people who may, say, only know me a "no makeup/glasses" situation.
I also keep collecting red lipsticks in the hope that one day I can get a great red lip with a more natural-but-polished eye look — but I have yet to find a comfortable lip that I can wear for hours without constant monitoring or regret — so I'm not there yet.
So let's hear it, readers — what are your thoughts on different makeup looks for different occasions? What are your regular looks for office makeup, interview makeup, date night makeup, weekend makeup and other situations? Do you have several makeup looks or just one for each situation?
If you work from home regularly, do you wear makeup? How has your makeup changed as you got promoted, got married, had kids, or generally gotten older? (Are there any looks that you think are too "young" for older women, short of, say, Jem's makeup?) If you occasionally wear glasses, how do you vary your makeup?
Update: My Every Day Makeup Look
As of 2023, my short makeup routine is pretty boring — curled eyelashes + concealer + blush (Nars Orgasm) + powder, with a different lipstick and eyeliner depending on my mood. If I'm feeling extra fancy I'll add mascara, highlighter, and/or do my brows with this cream and this brush (here's my review). (I also add eye shadows in the "extra" days but it's a huge variety, maybe 25 or so different ones.)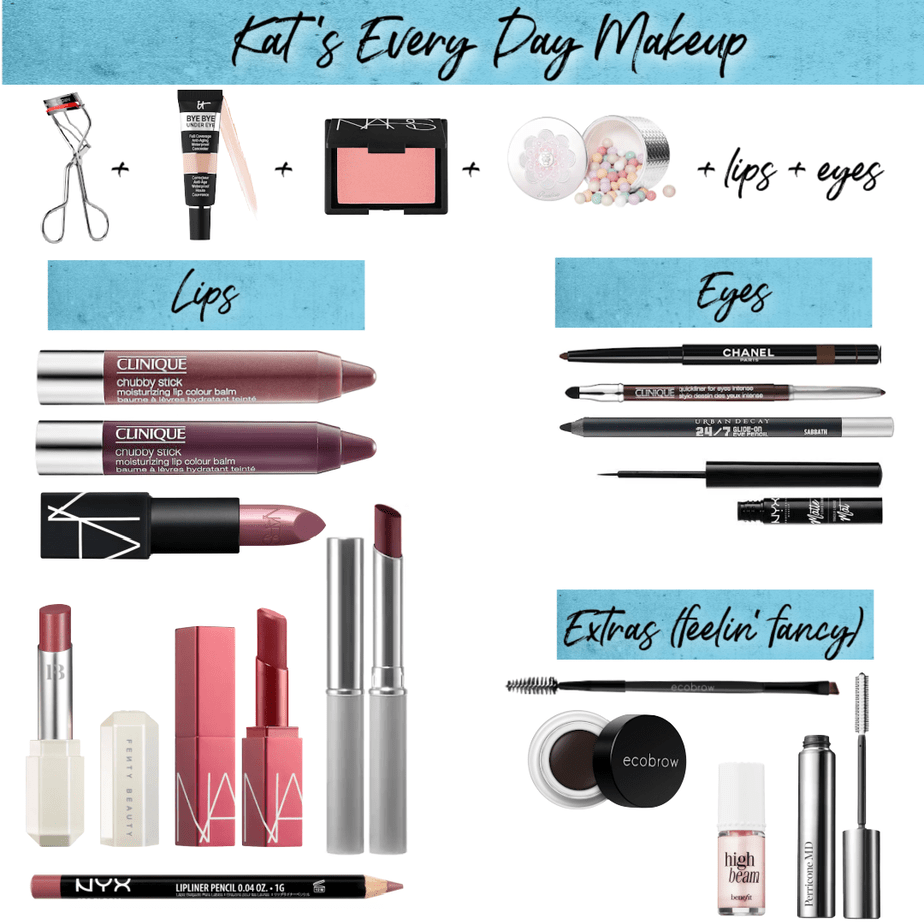 Some favorite lipsticks include Clinique (Graped Up & Voluminous Violet), NARS lipstick (Damage), Fenty (Goji Gang), NARS gloss (Orgasm, Fast Lane), and Clinique (Black Honey). I use this NYX lipliner (Natural) for almost all of them.
Favorite eyeliners include Chanel (Espresso), Urban Decay (Sabbath, Smoke), Clinique (Intense Chocolate & Plum), and this NYX liquid one.
Stock photo: Shutterstock / severija.