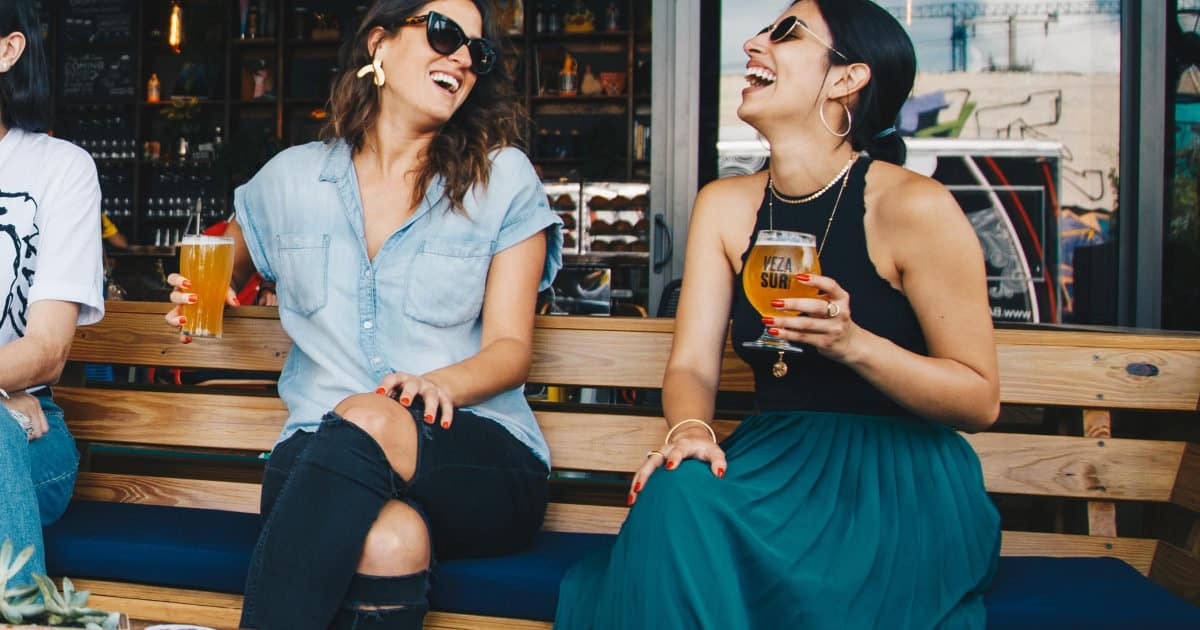 I know we just discussed the effect friends have on your life a few weeks ago, but I thought friendship tiers and theories would make a really interesting discussion: How do you define tiers of friendship? What is the difference (to you) between a close friend and an acquaintance, and how has that changed for you over your life?
Recently I saw an interesting article in Vox about "why 30 is the decade that friends disappear, and this is what you can do about it" — and it contained one woman's friendship tiers:
First come acquaintances, people I can recognize and say hi to at yoga class, cookouts, church, that kind of thing. Then I start to connect with some casual friends, people I can do coffee dates and see movies with. Once we reach a point where we don't have to make plans in advance — where we're comfortable enough to do nothing together and I can just text that I'm on my way — that's when I've made a close friend.
I immediately texted Kate to note that I disagreed with that "just text that I'm on my way" level — as an introvert, I haaaate when people CALL without a specific purpose (or, frankly, without us having agreed to have a call at X time — because I am crazy). If a good friend were to just show up at my door, I would be like, "Hi! Are you in dire need of a bathroom? Are you injured? Can I help you in some way? No? OK nice seeing you let's get together soon!" But again, I'm kind of an extreme introvert. It's particularly interesting to me because some of the people I consider my best, closest, soul-sister type of friends aren't necessarily people who are in my orbit on a regular basis — they're those people I maybe haven't seen in nine months (or longer) but we talk for four hours straight without stopping when we do see each other. So for me, my friendship tiers look more like this:
Acquaintances: People I recognize enough to smile at and possibly remember their name and 2–3 facts about them.
Situational friends, aka "work friends": I have some soul-sister friends from various jobs over the years, so I don't mean to demean work friendships, but I've found that with some people you're BFFs for a limited time or situation — and then when the situation passes, you never speak to the person again (or when you do, you just have a quick, catch-up conversation). Sometimes I've mistaken a work friend for a soul-sister/kindred-spirit kind of friend and have been hurt when they clearly can't or don't want to be friends beyond that situation; sometimes I've been thrilled to realize that someone I thought was just a situational friend really does become a kindred-spirit friend.
Friend family: Some people have been in your life so long that they're like family — or they may have so many connections to your life (past, present, and future) that they're like family. You choose to keep them in your life and love them, but acknowledge their faults and failings, and recognize that if you were to meet today for the very first time you may or may not become friends.
Soul friends: At this point in my life I honestly may go years between talking to these people, but I know they're out there, and the love I feel for them is still really strong. When we do get to spend time together or have a call to catch up, I often feel like they've elevated my life in some way, either by sharing a point of view or perspective I might not have considered, or passing along books, ideas, or tips, or even just silly turns of phrase or jokes that I think about much later.
While I've listed them in what may appear to be "least to most important" order, I think it's a mistake for me to think of them that way — sometimes acquaintances are what get you through the day, after all. And weirdly, I might allow an acquaintance to "text if she's on her way" because I'd know that the visit would be short and purpose-based, whereas a soul friend dropping by would kind of require the clearing of the schedule for the next few hours.
As for how my friendships have changed as I've moved through life — I'm old enough to tell you that they absolutely have changed, but not so old that I can see the full arc of how they will continue to change. If this metaphor makes sense, there was a time in my late 20s and early 30s where friendships were like coffee — something I needed to have in every single day — whereas now friendships are more like cupcakes or a great cocktail, something that I don't get to enjoy all the time and makes the day sweeter when I do. Right now a lot of my friends and I are in the weeds with young kids, as well as work and family obligations, and a lot of situational friendships revolve around the kids.
When I was single I always hated it when girlfriends would completely disappear when they got a new boyfriend and then reemerge when they were single again — so in some ways I hate to admit that's what I did. But my husband is definitely my best friend, and when we met, that changed a lot of friendships and, in some ways, intensified the ones that remained, because it was a definitive choice to keep and nurture them. (I can easily see how when marriages start to break up and kids start to become more independent, my friends will start to reemerge.)
At this point, I think friendship definitely did peak around age 30. I'm in a mastermind group with a woman younger than me, and I encouraged her to go away with her girlfriends for her 30th birthday because, I argued, "It's peak friend time, and it's soooo much easier when kids aren't in the equation!"
Anyway, my own "friendship tiers" are incredibly different than the "I'll text you when I'm nearby" tiers — so I thought it would make a fascinating discussion. What are your friendship tiers? Have they changed as you moved through life? (In case it needs to be said: there are no "right answers" here!)
Further Reading: (looks like my own friendship tiers are odd ones!)
Social media images via Stencil.