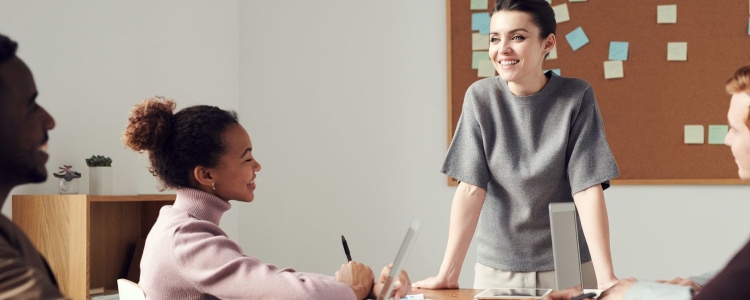 Here's an interesting (and thorny?) question: Do you feel like there's a millennial/Gen Z divide at the office? If you have younger coworkers who are "Zoomers" (ugh, that name), do their thoughts about the workplace and the nature of work seem drastically different to you than those of older generations? In last Friday's Weekly News Update, we shared an October 28 New York Times story by reporter Emma Goldberg called "The 37-Year-Olds Are Afraid of the 23-Year-Olds Who Work for Them," and we thought it'd make for an interesting discussion (debate?) today.
We're curious, readers: Does the NYT story ring true for you? What is your age/generation, and what are your thoughts? Have you observed a millennial/Gen Z divide at the office? If you're a millennial or Gen Xer, do you sometimes find yourself thinking, "But it's always been done that way!" about certain office norms?
We're definitely not the only ones who want to talk about this story. As of November 2, the article has gotten 2,879 comments, which is pretty notable when you compare it to the 2,964 comments on the NYT's "Bad Art Friend" story (October 5). (If Bad Art Friend doesn't ring a bell, let's just say it reached the "Cat Person" level of online discourse, or close enough.)
I'm not sure I'd call the "37-Year-Olds Are Afraid" headline "clickbait" exactly, but it's definitely written to grab your attention, as is Goldberg's tweet, in which she noted, "Gen Z is scary! They're coming for your '9 to 5.' They hate your emojis. They're laughing at your jeans. And they're making things in the office political."
Here are a few excerpts from the NYT story, which range from surprising or even shocking (at least, to many of Gen Z's elders) to gusty and/or admirable. (We'd describe the third as admirable!)
[A 30-year-old company founder] interviewed a Gen Z candidate for a full-time position who asked if she could stop working for the day once she'd accomplished the tasks she'd set out to do. He responded that her role was expected to be a nine-to-five.
[A 31-year-old startup CEO] had to laugh when a Gen Z employee sent a Slack message assigning her a task to complete. Ms. Priego interpreted this as a welcome signal that her 15-person staff doesn't find her intimidating, but another member of upper-level management was horrified.
[A 34-year-old startup cofounder] got a Slack message from one of her youngest workers after the shootings at Atlanta-area spas in March asking what the team could do in solidarity with Asian Americans.
Yes, generalizing and stereotyping the generations can be unproductive and even offensive. Still, it's worth talking about how a lot of Gen Z employees are challenging the status quo at work — including requesting (or demanding) that employers address important social issues — and how those of us who are older react.
As a younger Gen Xer who strongly relates to the Xennial concept and has a younger-Gen-Z kid, I find this really interesting. And I'm sure a lot of you readers had the same reaction I did to a lot of the anecdotes in the NYT story. I instantly felt old — kinda like 1970s Grampa Simpson. If you did, too — or didn't — please comment and share your thoughts!
What are your thoughts about generational divides at work? (Faxing, anyone…?) Do you think there's a millennial/Gen Z/Gen X rift in the workplace? What did you think of the NYT story?
Further Reading
Stock photo via Stencil.