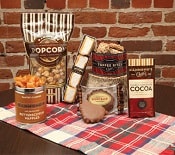 What are the best gifts to give business associates and colleagues? It still feels a bit early in the season, but I suppose that's the best time to plan gift-giving… Here's Reader R's question:
Not sure if this topic has been covered, but any ideas for holiday gifts for fellow attorneys who refer you business.
Interesting! We've talked about what to give your secretary for the holidays, and what hostess gifts are appropriate for work-related parties, but we haven't talked about this. For some reason I always think of alcohol (a nice bottle of a good liquor) or gift baskets as being work-appropriate business gifts. For my $.02, I highly recommend avoiding soap (even artisanal soap) — I'm always mildly offended when I get that gift!
Readers, what do you give business colleagues? What are some of the best gifts that you've gotten?
{related: gift ideas for professionals}
Some of our latest great gift ideas include:

(Pictured: Rocky Mountain Goldmine, available from Hammond's Candies for $49.50. Not included in the gift set, but amazing: their caramel-wrapped marshmallows.)