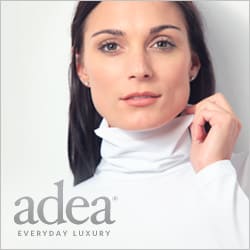 Disclosure: this post is sponsored by Adea, but written by your regular friendly blogger Kat Griffin.
We first talked about Adea, a company focused on luxurious layering pieces, back in May — some of the pieces they sent me have become favorites of mine (they really are super lux but easily washed, as I noted last time), so I'm excited to take a second look at Adea and some of their great layering pieces for fall. As a bonus, they've just expanded the size selection for a lot of pieces up to size 3X, which is always great to hear (particularly since a number of readers who were happy with Adea products recommended going up a size (or two) to make the pieces more wearable by themselves, not layered.)
In addition to all of the tanks and camisoles we featured last time (great for under sheer blouses, to raise the neckline of sweaters, and more), these are some of my favorites: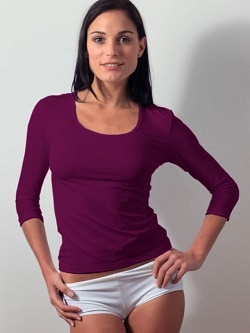 The 3/4 Sleeve Scoop Neck, $74.  In general, I'm a fan of wearing washable sleeved tops beneath blazers, sweaters and more as a way to extend the wears, avoid dry cleaning and other laundry (which I always feel like can age fine fabrics like cashmere, silk, etc.). This best-seller comes in 20 colors (a few colors are 40% off) and is particularly great as a base layer beneath sweaters — the 3/4 sleeves hide better under sweaters than short sleeves, and the scoop neck works with a variety of sweater necklines. (They also have a v-neck and a crew neck.)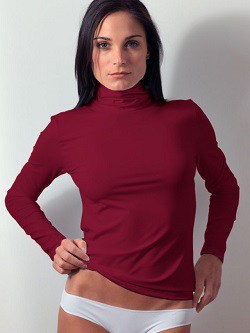 Long Sleeve Turtleneck Layering Top, $99.  I have always sought out thin turtlenecks for layering beneath dresses, sweaters, short-sleeved blazers, and more, and I've had to settle in the past for those tissue-thin ones that get holes in them in two seconds. This one looks like an amazing way to really step up your wardrobe, as they're made with Adea's silky, stretchy, opaque fabric. This one is available in six colors.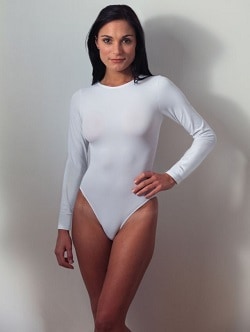 Long Sleeve Crew Neck Bodysuit, $99.  I'm not a huge fan of bodysuits myself, but if you're the kind of person who loves clean lines and neatly tucked shirts, they can be a must have. This crew-necked one from Adea comes in white and black, and looks comfortable. (It's worth noting that the company also has a fairly extensive line of thongs, boyshorts, and panties.)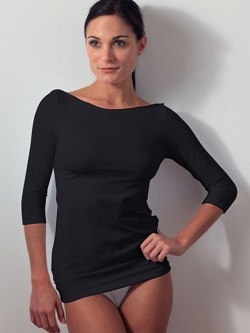 3/4 Sleeve Boat Neck Layering Top, $109.  Like I mentioned, they have a lot of different neckline for layering tops (as well as sleeve lengths), but this one looks like the perfect shirt for layering beneath the occasional dress, which can be a good way to extend the wearability of some of your lighter wool dresses into fall weather. This one is $109, and comes in three colors.
 Readers, what are your favorite layering pieces — boatnecks, turtlenecks, V-necks, or something else?