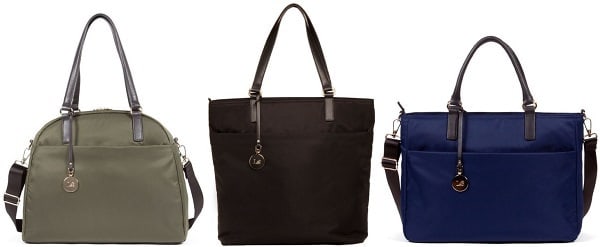 I've talked before about my love of Lo & Sons bags — they're lightweight and durable, yet stylish and functional. I love the gazillion smart pockets (whether it's a laptop bag or not), the back panel sleeve that makes them super travel friendly (pictured below), the neutral colors (and often a choice of gold/silver hardware), and the clever marketing — most of the product pages show videos of a woman packing up her Lo & Sons bag so you can see everything that can fit in there. Brilliant. Anyway: I was thrilled when Lo & Sons reached out to offer Corporette readers a giveaway, and it's a big one, ladies: one grand prize winner will receive a $500 store credit. Pictured above: the O.M.G. ($275), the T.T. ($260), and the Brookline laptop tote ($198). Pictured below: the O.G. overnight bag ($295).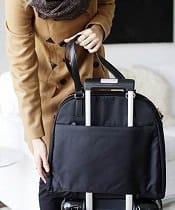 The Rules: Readers enter the giveaway via Rafflecopter (see the app after the jump, or use this link to enter); you can gain additional entries through various social media (all through the app). One winner will be chosen the morning of Tuesday, November 25 (chosen by Rafflecopter) and gets to choose any Lo & Sons bag(s) currently in stock. Please note that, due to legal reasons, this contest is only open to adult residents of the United States. The winners will have one week to respond to Kat to claim their prize or a new winner or winners will be chosen.
N.B. There's a great pre-Thanksgiving sale running right now — take 20% off all orders with code PRETHANKS2014.