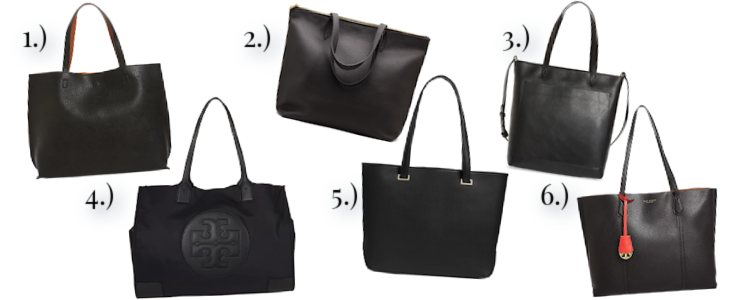 (Looking for a luxury work bag? Here's our latest roundup…)
Sure, we all know what basics professional women are supposed to have in their closets, but if you're buying one for the first time or replacing one you've worn into the ground, it can be a pain to find exactly the right incarnation in stores. In "The Hunt," we search the stores for a basic item that every woman should have.
It's been a while since we did a roundup on interview tote bags, so I thought we'd do one now (see our 2012, 2011, and 2010 roundups here). I've said it before but I'll say it again: in my mind the perfect interview tote has structure (that it keeps if you set it down), is a muted color like black, and doesn't have a ton of logos or other bling on it.
In terms of size, I think it should be big enough to fit a file folder as well as whatever else you would normally carry in your purse, but not so big that you could fit a beach blanket or groceries in there. In the past I've always preferred nylon to leather (much lighter weight) but I think readers have finally convinced me that the weight doesn't matter that much. (What do you think, guys?) 
We've included some of the classics in previous roundups (such as the Kate Spade Maryanne line, most MZ Wallace bags, nylon Tory Burch totes, and Lo & Sons totes) so I'll only include the newer ones in today's roundup.
Readers, what are the top qualities you look for in an interview tote? Have you made any great purchases recently?
Some of the below products are probably sold out; see the image at the top of the post for our latest favorites!
Up first: this nice north/south tote from Isaac Mizrahi, on sale at Amazon. I'm not totally jazzed about the leather/plastic combo, but it is a very nice purse. (Another Very Important qualification for the interview bag: it is in pristine condition. So if this one starts to show wear/tear on the plastic parts, downgrade it to a regular tote.) It was $158, but is now $85.62 at Amazon. Isaac Mizrahi – Handbags Kay N/S Tote
Up next: This textured snake tote from Karen Millen (part of their big sale). This actually would have been one of the more expensive bags (originally $425) but with the sale it comes down to $125. I wish it had feet to stand up by itself, but it looks large enough for a file folder, and you can't beat that discount. Textured Snake Leather Maxi Tote
Clocking in at $150, we have this nice "synthetic leather" shopper from Ivanka Trump. (Readers who are vegan — would this qualify?) I would probably detach the strap, but I like the lined interior with pockets. It's $150 at Zappos. Ivanka Trump Rose Top Handle Shopper
I'm liking this Lauren Ralph Lauren tote (also synthetic, unfortunately) — the open (and wide) closure makes it less than totally ideal, but I keep coming back to this one anyway. (I also like the name of the tote since it vaguely reminds me of an Oscar Wilde character (and never mind; I'm thinking of Bunbury). The bag is $158 at Zappos. LAUREN Ralph Lauren Bembridge N/S Tote
OK, let's discuss this: why are great interview totes from Cole Haan so hard to find? Considering our collective love of the line for professional, stylish shoes, you'd think they'd be on top of the interview bags — but maybe I've just missed their classic tote offering. Anyway: for today's roundup I like this soft pebbled leather tote, even though it doesn't have as much structure as I would want. The "small" size seems to be better than the next size up, which gets into beach blanket/bringing piles and piles of papers home territory. It's $198 at Zappos. Cole Haan Haven Small Tote
While I've recommended this bag on the blog before, I'm kind of surprised I haven't included it in previous Hunts for interview totes — it looks like a quality leather bag that would be great for interview purposes and beyond. At $295 it's still pretty affordable. It's available in five colors at Nordstrom (pictured in Cerulean here, and in black at the very top of the post). Rebecca Minkoff 'M.A.B.' Leather Tote
Like this feature? Check out other recent installments!