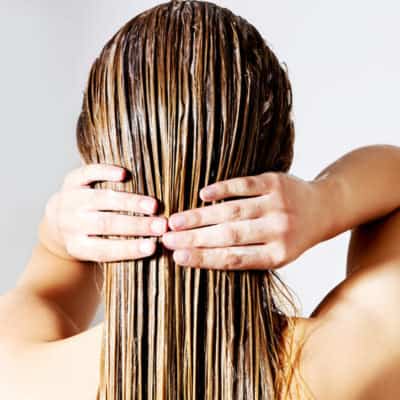 As the weather is getting cooler and the air is getting dryer, I thought now might be a great time to talk about hair masks. I really got into them while pregnant with my second son — my skin was super dry, and my hair seemed to be too — so these are all ones that I've bought and tried myself. (In case it matters, I tend to have fairly fine hair, but a ton of it — and it's getting curlier each year. It also gets more dry each year, also — handy for making a blowout last for days.)
Burt's Bees Avocado Butter Pre-Shampoo Hair Treatment. This one was one of my favorites when I was younger, but back then this was like an extreme option — I'd put it on and have baby soft hair for weeks afterwards. These days, it's just a nice hair mask (hooray, aging)! I like the slightly sweet smell, and find the dark green color to be comforting (even though Amazon reviewers referred to it as the color of snot!). You apply this baby BEFORE you shampoo your hair, so it's great to slap in your hair, put an old towel around your shoulders, and putter about the house (or, hey, take a bath). It's $10.99 at Amazon.com.
Pantene Pro-V Expert Collection AgeDefy Rejuvenating Hydration Hair Masque. I bought this one on a whim while trying to get to free shipping somewhere (Soap.com or Drugstore.com, most likely) and I've been happy with it. It takes much less time than the Burt's Bees one (3 minutes versus 15-30), and when rinsing it out, my hair feels noticeably different than the others — softer somehow? It's hard to put my finger on what is different, but I do like this one. 2018 Update: they sadly don't seem to make this one anymore — if you have any tips on replacements I'd love to hear them!
Moroccan Oil Intense Hydrating Mask. I liked this one fine, but it does seem better suited for a salon — you put it on and let it sit for 30 minutes AFTER you shampoo, which strikes me as strange after liking the Burts' Bees one for so long. It's $32.49 at Amazon.
Other options I've tried for deep conditioning treatments: Aussie's 3-minute miracle (not bad for the price), or Mixed Chicks Leave-In Conditioner (nice and thick — and while it's pricey, my 10 oz bottle is lasting forever). When I was really young (and doing swim team) I loved V05 Hot Oil treatments – I may try those again soon.
(Psst: here's a link to our last discussion of winter hair care for curlies — women with all hair types, do you do anything else different as the weather starts to get colder?)
Readers, do you have any favorite hair masks or treatments that you do at home? Anyone want to demystify some of the "recipes" you see out there (avocado! olive oil! coconut oil! egg! lemon! I've been intrigued but have not yet researched.)
Social media picture via Fotolia / Piotr Marcinski.
—————
N.B. PLEASE KEEP YOUR COMMENTS ON TOPIC; threadjacks will be deleted at our sole discretion and convenience. These substantive posts are intended to be a source of community comment on a particular topic, which readers can browse through without having to sift out a lot of unrelated comments. And so, although of course I highly value all comments by my readers, I'm going ask you to please respect some boundaries on substantive posts like this one. Thank you for your understanding!