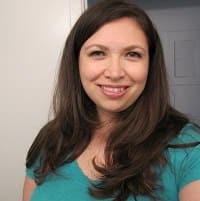 Blowouts can make your hair look smooth, silky, and shiny — and they're much healthier for your hair than flatironing it! — but how can you make a blowout last? I'm a huge fan of blowouts these days, and if there are a few events over a few days it's a no-brainer for me because I can get so much more "bang" for my buck. (I normally pay about $40 for a blowout, not counting tax and tip, but you can also blowout your own hair. Even if you're doing it yourself, with the time and energy required, you may want to make those last for days as well!) Right now a blowout can last about 3 days for me, easily, but there were points in my life when I could make it last for 5 days. (Pictured: me on Day 3 – I would have let this one go to Day 4 actually but I wanted to workout.)
I think it comes down to a few simple rules:
a) Train your hair. This is my own secret theory, but here goes: the more often you wash your hair, the more often it thinks it needs to be washed. (The NYT has covered this sort of thing extensively: e.g., here. And if you're washing your hair every day 99% of the time, there is no way you're going to make a blowout last for even two days for the 1% of the time you want it to. I first started stretching it out by going two days between shampoo use, usually just by plopping a shower cap on my head when I took my shower.
When I was pregnant (and something about the shower made me nauseous), I would only get my hair wet every 3 days (and it was during this time that I found a blowout lasted once for me for 5 days). Currently my routine for days when I wear my hair curly is: Day 1, shampoo. Day 2, don't get hair wet. Day 3, use conditioner to wash my hair. (I like Suave Naturals — it's silicone free and sulfate free, and dirt cheap. I find that I need about 3 big handfuls to get my hair saturated enough so I can scrub it.) Day 4, don't get hair wet. Day 5, use DevaCurl Low Poo. Day 6, don't get hair wet. Day 7, shampoo.
Oh! And here's a tip: if you have bangs that get dirtier than the rest of your hair, consider putting the rest of your hair in a shower cap, and just shampooing your bangs (or other layers around your face) — I have one girlfriend who swears by this.
b) Don't touch your hair once it's blown out. I only comb my hair maybe once a day, and I try to avoid pulling it back unless it's absolutely necessary.
c) Use dry shampoo to extend a blowout. I've tried a bunch of dry shampoos, but my favorite remains Psssssst Instant Spray Shampoo. Here's my technique: Pick your hair up at the roots, spray the dry shampoo, and then do a task for a few minutes (wash the dishes, put away the laundry, whatever). Yes, your hair will be gray, but after the two minutes is up, I gently scrub my head (kind of like I'm shampooing it) and make sure that whatever hasn't absorbed is blended.
d) On sleeping. I've tried silk pillowcases, and I've tried the high ponytail to sleep — I don't recommend either, actually. The silk pillowcase just didn't make a difference (but perhaps I need a higher quality one? I got mine at a beauty supply store…), and the high ponytail just "bent" my hair, leaving those annoying indentations. I've found it's best to just sleep with it long and down on a clean, regular pillowcase (and keep my husband from breathing on it too much).
e) On working out. I don't recommend getting sweaty on days that you want your blowout to last. Some workouts — weights, yoga, walking, even light aerobics — can be done without getting too sweaty… but I'd skip the 50 minute run in 80% humidity. Regarding my "normal" routine, above — I try to coordinate my running days with my "wet hair" days, and just do another workout on my "dry hair" days. Your mileage may vary here, but I would recommend trying dry shampoo after your sweaty hair has dried, though, because you may find that it's acceptable to you. (Ask for a second opinion from your friend or partner about the acceptability, though.)
Readers, how long can you rock a blowout? What are your best tips?
Psst: As of 2023, these are some of Kat's favorite hair products (she largely follows curly hair routines)… but she loves this $30 brush/blowdryer!