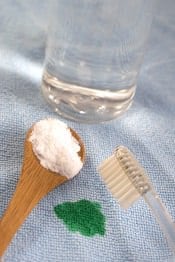 What's the best way to deal with stains you get while at work — should you remove the stain, hide it, or leave it be entirely? Reader L wonders about a stain she got on a sheath dress:
Yesterday I was wearing my absolute favorite dress, a black and white colorblock Theory sheath, and at lunch I got a tiny spot of balsamic vinegar on it. Out came the Tide pen, but then that left a large light brown blotch. So I headed to the bathroom and tried to rinse that out…what turned out as a little spot ended in a huge off-white wet spot over my boob, right before I had to give a presentation. Help! What's the best way to get rid of stains during the day?
Interesting! We've talked about how to remove deodorant marks from suiting (as well as our general suit cleaning guide), but not this. I have a few thoughts here:
First: if this was RIGHT before your presentation… it's maybe best to just leave it be, and try to hide it with a blazer, sweater, scarf, or even a necklace.  Even if you got the stain out, you'd still be left with a big wet spot… and you don't want the situation to snowball (there's a great scene from Silicon Valley on point here).
Second: if you do try to get a stain out at the office, you may want to Google a bit — what the stain was, what type of fabric you were wearing… it all depends on how to get it out.  Some stains (and some fabrics) are best left to the professionals.
Finally: if you have a bit of time (and you're at your office), this is exactly why you should keep a backup suit at the office.  It's handy in case you have a last minute interview or a surprise big day — but it's also handy if you spill balsamic vinegar and end up with an off-white wet spot on your boob.   A few notes about the suit at the office:
Make sure you have everything you need to wear the suit.  If it's a skirt suit, do you have the right color of tights or pantyhose? Do you have an appropriate shirt to wear UNDER the blazer?  Will you need a camisole or specific color of bra under the shirt?  I still remember one day when, dressed way too casually, a VIP partner called to see if the team wanted to grab lunch at Cipriani's.  Yes please! My backup suit at the time was one that I'd bought on deep discount and hadn't liked that much once the thrill of the sale wore off — but I was never happier to don it.  The only problem: the shirt I had brought to wear with the suit was a thin, white t-shirt… and of course I was wearing a colorful bra.  Fortunately a friend stepped in with a backup shirt (I think I literally took the shirt off her back), but I learned my lesson.
Is your suit your current size? If you're losing or gaining weight, keep an eye on your emergency suit.
Keep your suit out of direct sunlight.  The color can fade.
Check to see whether your suit is getting dusty.  I don't ever recommend that people keep their clothes in the plastic dry cleaning bags, but you may want to get a nice garment bag to keep your suit dust-free and out of the sun.
Ladies, have you had good luck spot cleaning clothes at the office — or do you immediately revert to a backup outfit and leave the stain removal to the professionals? Do you have any particular tips for getting stains out of suiting clothing?

Photo credit: Shutterstock / JPC-PROD.
—————
N.B. These substantive posts are intended to be a source of community comment on a particular topic, which readers can browse through without having to sift out a lot of unrelated comments. And so, although of course we highly value all comments by our readers, we're going to ask you to please keep your comments on topic; threadjacks will be deleted at our sole discretion and convenience. Thank you for your understanding!