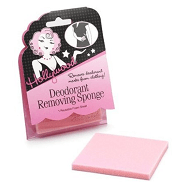 How do you deal with deodorant marks on your nice work clothes?  Reader A has a great question:
My question is about sleeveless dry clean shift dresses underneath suits. I don't dry clean mine every time I wear them, and I notice pretty significant deodorant marks on the bottom of the armhole. Is there any way to prevent this? Or a good way to remove after the fact?
I'm excited to see what the readers say here.  Personally I've always preferred to wear something with sleeves beneath suits, in part because it "protects" the suit from your deodorant and sweat, and in part because it's much easier to toss a t-shirt or blouse in the wash than it is to take it to the drycleaner.  (Remember, ladies: frequent drycleaning is bad for your clothes.)  You could always look into a different deodorant (we've actually talked about the best deodorants for women — I'm curious if anyone has any new favorites?) or a "dress shield," which you could tuck into your dress.  Failing that, I think I might try a deodorant sponge, such as the one above (Hollywood Fashion Secrets Deodorant Removing Sponge, available at Amazon for $5.97, or Miss Oops Rescue Sponge
, available at Amazon for $12), to try to remove the deodorant stains.
Ladies, how do you remove deodorant marks on suiting and other nice fabrics?  Have you found a better way to prevent them?