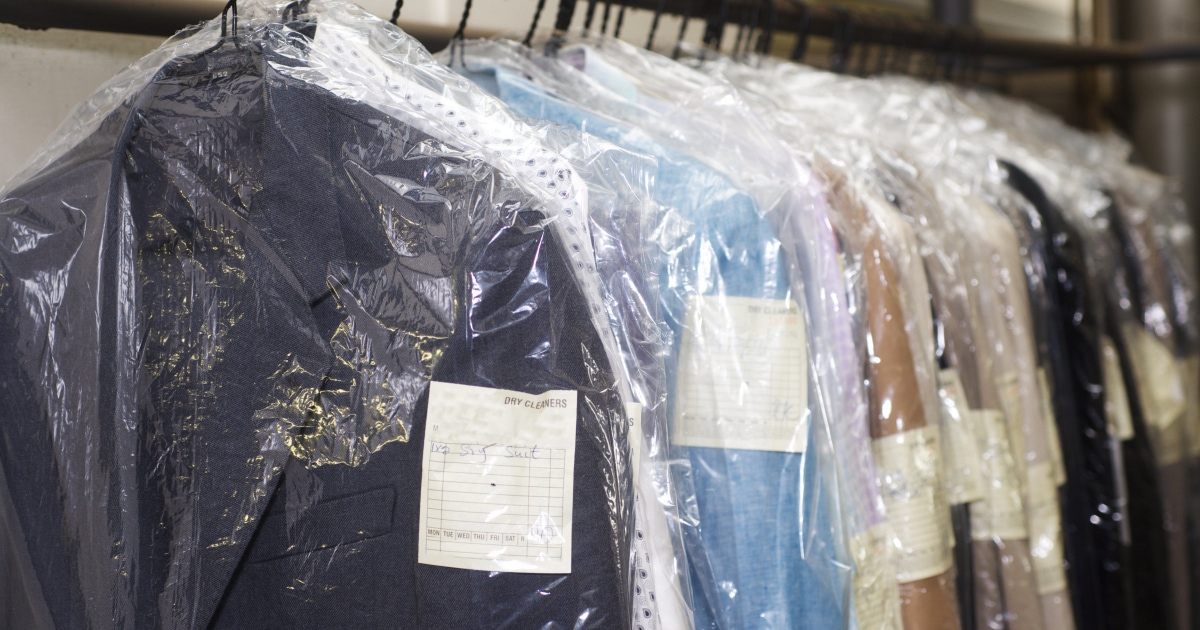 How often should you dry clean your suits? Is dry cleaning bad for suits, and something to be avoided? We thought we'd round up some of best tips in one place — so here's everything you need to know about drycleaning women's suits!
If you had asked me before last Thursday's post on whether you can create a black suit from different black pieces, I would have said that we had absolutely, totally talked about this before on the blog, at least once or twice. (At least in our Guide to Interview Suits, right?) But going through the archives, I couldn't find any post really on point.
Since I do think these are important basics — particularly since it's the end of the season and many readers are likely considering what to do with their winter suits — let's talk about it today.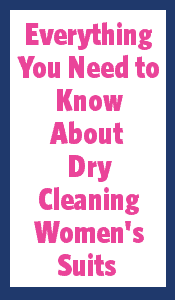 Things to Know about Dry Cleaning Women's Suits
Here are a few simple things to know about dry cleaning women's suits:
– Dry cleaning is something you should generally avoid as long as possible because you're exposing your clothes to a lot of chemicals. Because these chemicals weaken the fabric and buttons (to say nothing of whether the chemicals are good for you or the environment), dry cleaning is something that you should avoid.
Men generally get their suits drycleaned once a season, but this is different for women — different fabrics, different linings, and often times very different underpinnings.
For example, the woman wearing a thong and a camisole beneath her suit is exposing her suit to a lot more sweat and body odor than a man wearing a pair of boxers and a long-sleeved white shirt.
In our last poll about how often to dry clean your suit (back in this blog's early days of 2008!) most readers said they either dry cleaned their suit after 4-5 wearings or when it started to smell.
While suits are almost always "dry clean only," try to adopt a more experimental attitude with sweaters and pants that are marked "dry clean" (not "dry clean only") — for example, my personal rule is that I'll get something dry cleaned only for the first year of owning it, and after that I'll try the delicate cycle and Woolite. (Still: do a test patch first!)
– Do not store your clothes in plastic bags from the dry cleaner's. I've read different things on this through the years; the main reason in support of storing things in plastic was that the plastic kept wrinkles at bay. While I still read that occasionally, I overwhelmingly see articles like this one, noting that leaving your clothes in the plastic dry cleaner bags can cause yellowing and staining, and worse.
– After dry cleaning, air your clothes out for as long as possible before storing them in your closet. Whenever I get suits or coats home from the dry cleaner, I strip off the plastic and paper stuffing and hang them up on a hook outside the closet (or in the hallway, or the bathroom), and I wait a day or two before putting them away.
Psst: here are some of our favorite mid-range women's suits:
How to Lengthen the Life of Your Suits
Hang up your suits and let them air out after each wear — this keeps the wrinkles from setting in, as well as helps get odor out.
If you really have odor problems, readers have suggested spraying vodka on the fabric — 4 parts vodka, 1 part water. Just be sure to air it out well before you wear it to work… (Check out their other tips on what to do when drycleaning doesn't work; it's a great thread.)
Consider having your suits pressed if they're very wrinkly — this one was a new one to me, but a male friend recently told me that he gets his suits pressed at the dry cleaner's — particularly if he wants a nice crisp pleat.
Another option that I've never mastered: using a steamer. Before you spend big money on a steamer for your suits, though, check out this older post at Style Forum, apparently written by a tailor, about how you can really damage a suit with a steamer; he also recommends against hanging your suit up in the bathroom while you're showering to steam it the lazy way. (I admit that I do this after packing my suit jackets, though.)
Avoid body odor by making smart choices with what you wear under suits — I've never been a big fan of shells or camisoles beneath suit jackets for this very reason; if you only wear thongs I'd also suggest this is a great reason to find comfortable, VPL-less underwear with fuller coverage. (Our recent discussion on lingerie favorites may also be helpful.)
When you finally do go for drycleaning, be sure to dryclean all suit separates (blazer, dress, skirt and pants) together so they wear the same.
Readers, what other laundry tips have you found helpful for women's suits? Has anyone had positive/negative experiences with pressing, steamers, organic dry cleaners, or home drycleaners like Dryel?
Stock photo via Deposit Photos / omur12.