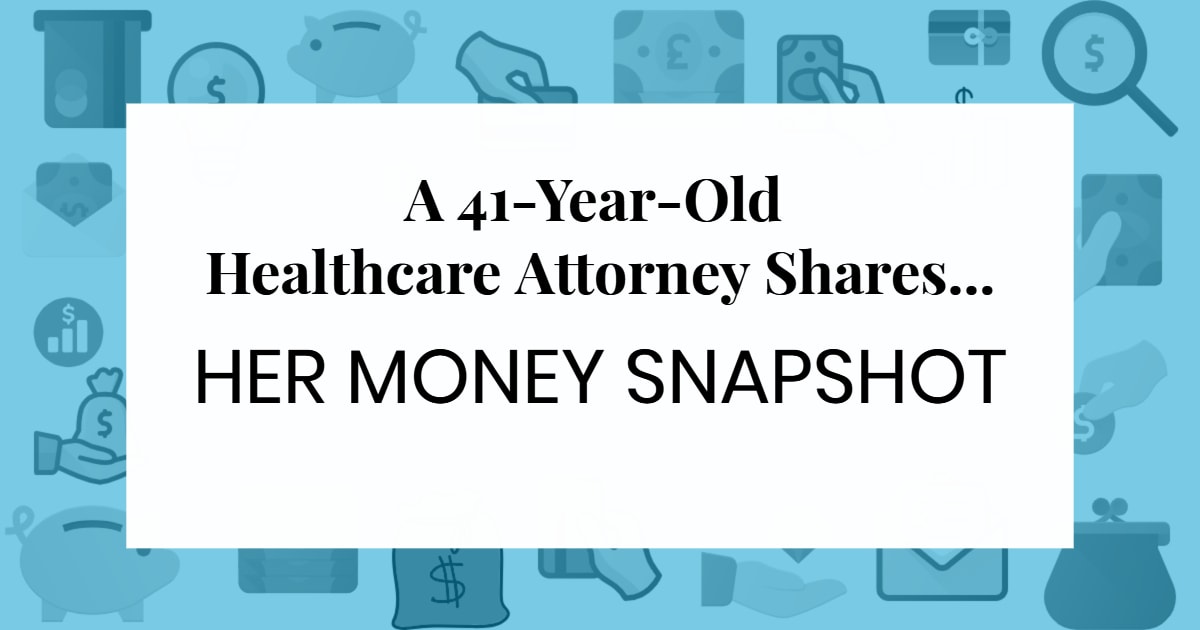 For today's Money Snapshot, we're talking salary, net worth, debt, and more with reader K in Richmond, VA, who works as a healthcare attorney. She notes, "I started in the DC area, which is extremely expensive, and when shopping for a house I was approved for much higher than I realistically could have afforded. I bought my first condo for about half of what I was approved for, and it saved me when the market crashed, that I could still afford my lifestyle and wasn't upside down on my mortgage." (Note that we weren't able to reach K for an update on how 2020 has affected her life and job.) 
We got a few requests from readers to launch our own "money diary" series, so we've asked willing readers to fill out a form with lots of details about debt, spending, saving and more! If you'd like to fill out the form and be considered for a future personal money snapshot, please click here to submit your response! You can see a PDF of the questions if you want to review them ahead of time. See others in the Personal Money Snapshot series here.
Please remember that this is is a real person who has feelings and isn't gaining anything from this, unlike your usual friendly (soul-deadened, thick-skinned, cold-hearted, money-grubbing) blogger — so please be kind with any comments. Thank you! — Kat
Name: K
Location: Richmond, VA (MCOL) 
Age: 41
Occupation: Healthcare attorney
Income: $110,000
Net worth: $930,000
Net worth when started working: Negative $60,000 at age 24 (student loans)
Living situation: Own my house and pay $2,000 in mortgage a month
Debt
What does your debt picture look like?
I pay more than I owe each month on my car and my mortgage (total of $2,500). However, I'm not in a race, because my rates are low, and instead of spending more money there, I've increased my investments, as they are growing at a higher rate. I think it's using my money more efficiently. But I do live in a great neighborhood, so I don't have to worry about my house losing value.
How much money are you spending each month to pay down debt?
$2,500
How did you pay for school?
My grandparents paid for college, so I graduated debt-free. But I paid for myself to go to law school. I worked all through school so I could pay my living expenses and only had the tuition to worry about. It took about six years after graduation to pay it all off.
Home debt: Share your theories and strategies.
I have owned for over 10 years. I always buy less than I'm approved for by the bank. I have no interest in being house poor; there are too many expenses that can arise unexpectedly and you don't want to be that strapped for cash. I knew I didn't want to go over half my income, which is still more than many people are comfortable with. I have a 30-year mortgage. I overpay, but only by a couple hundred dollars each month. With my rate in the low 4% I'd rather invest my extra money since I'm currently getting closer to 8% returns. If all stays current, I should pay off my mortgage in 22 years as opposed to 30.
Have you paid off any major debt?
$60,000 in student loans seemed like a lot of debt to pay while living in an expensive city and not making a lot at first. I lived frugally so I could pay off as much as I could. I had roommates instead of trying to live alone, I only went out occasionally, and although I LOVE to travel, only did one big trip every other year and went off-season so it would be cheaper. I managed to pay off debt in about six years.
Have you ever done anything noteworthy to avoid or lessen debt, such as cashing out your 401K early?
I'm not terrified of the right kind of debt, like a mortgage. I did just buy a car, and didn't pay in cash, as the APR was so low, but I am paying more than the minimum, as a car is a depreciating asset. I did my research however, and did buy a car that holds value well.
Savings, Investments & Retirement
How much do you save for retirement?
I put away about 10% of my income yearly into a 401K with a 100% employer match.
How much money do you allocate to other tax-savvy investments/accounts?
I have $500 a month that goes to my broker.
How much do you save outside of retirement accounts?
I keep a safety net savings account and a travel/wishlist savings account. Right now they are both at the level I want, so I don't put anything additional into those buckets. If I still have extra cash for the next few months, I'll up my 401K contributions.
Talk to us about investments.
I have a financial adviser who I love. She has a fund at her investment house, which has given me great returns, so that is where the $500 a month goes.
Do you have an end goal for saving or are you just saving for a rainy day?
Early retirement and travel.
What's the #1 thing you're doing to save money, limit spending, or live frugally?
I live below my means. I take each raise as a chance to up my investing, and then maybe an occasional splurge, but my lifestyle hasn't changed since I made much less.
When did you start saving seriously? How has your savings strategy changed over the years?
I've always been a saver, but I started significantly saving when I turned 30. I'm now trying to be smart about my money. At first I was terrified of debt and paid off my loans as quickly as I could. I still get the urge to do so but realize that I may come out better in the end if I carry responsible, low-interest debt. I give a concession to my need to pay it off, though, and do pay more than the minimum on everything. Just not at the expense of saving and investing.
Do you have an estate plan? A trust?
I have a will, but nothing more than that. As I don't have kids, it doesn't seem as necessary.
How much do you have in cash that's available today?
$30,000
How much do you have in cash that's available in a week?
$50,000
How much is in your "emergency fund," and where do you keep it?
I have a savings account emergency fund that has about $15,000 in it. Higher than I should, but I feel nervous if I let it get too low. I take the loss of what I'd get by investing as the price I pay for piece of mind.
How much do you have in retirement savings?
$300,000
How much money do you have in long-term investments and savings that are not behind a retirement wall?
$250,000
If property values (home, car) are included in your net worth, how much are those worth?
$370,000
Spending
How much do you spend on the following categories on a monthly basis?
Groceries: $150
Restaurants, bars, takeout, and delivery: $500
Clothing and accessories: $100
Transportation: $525
Rent/living expenses: $2,000
Entertainment: $250
Other major expenses: $50 — my cat
Health care — premiums and other costs: $250 in premiums out of my paycheck, prior to taxes
What's your spending range for these things? What's your average?
Vacations – Range: $500–5,000
Vacations – Average: $3,000
Charity – Range of donations: $2,500/year
Charity – Average donation: I tend to support three charities evenly.
Individual items of clothing – Range: Around $75?
Individual items of clothing – Average: A shirt or bottoms from $20–50, and dresses, shoes, and bags from $75–150.
Car or Other Vehicle – Last purchase/current main vehicle: I pay $525 for car payment and gas. It was $27,000 and I put $7,000 down.
Apartment or house – Current main residence: $2,000/year
Fill in the blank on this question: I could save _____ if I stopped ______, but I don't because _______.
I could save $500 a month if I stopped living in my neighborhood, but I don't because I love the sense of community here and the fact that I can walk to shops and cafes and even the supermarket!
If you own, how much did your home cost?
I got it at $315,000, now valued at $350,000+.
How has your family provided financial support in your adult life, if any?
I did get some stocks from my grandfather and inherited money from my other grandparents. All in all, about $150,000. The greatest thing is, to get the stocks my grandfather made me sit down with the banker, who walked me through investing, compound interest, rates of return. It made me see the strength of investing, and the wonder that is compound interest!
At any point in your life to date, has inheritance played a role in your money situation?
Not really. My mom passed away right when I bought my first condo, so my dad did give me a little money (around $2,000). Also, I did inherit money from my mom's parents because my mom passed away before they did. So what would have gone to her was instead inherited directly by me and my siblings.
Does your family provide any non-financial support (such as regular childcare)? 
No, I don't have kids and don't live in the same area as my family, unfortunately. My sister is, however, my best listener and gives great financial advice.
Money Strategy
Do you have a general money strategy?
Live below your means. Invest early and take advantage of compound interest. Make your money work for you so you can do the things that are important to you. To do that, you need to make sure to pay yourself along with your monthly bills! Being single with no kids changes how you look at your financial status. If I run out of money in retirement, I don't have a safety net of a spouse or kids. I have to be smart now to put myself in the best position later.
Time vs. money: Do you spend money to save time (e.g., cleaning service)? Do you donate your time instead of money? What else does this phrase mean to you?
I do have a housekeeper and love the freedom from my scrubbing! I do try to be generous with my time with those I love. I'd rather take a walk with a friend then spend money if it means I really get to be with them.
What are your favorite resources for personal finance?
I like reading many blogs about money, as well as some finance books. The Value of Debt by Tom Anderson is great (affiliate link).
What advice would you give your younger self about personal finance?
Honestly, I have no regrets. The only things I would say is that having money doesn't improve quality of life. If anything, it just gets in the way of it. Focus on what really matters.
Icons via Stencil.
We are a participant in the Amazon Services LLC Associates Program, an affiliate advertising program designed to provide a means for us to earn fees by linking to Amazon.com and affiliated sites.