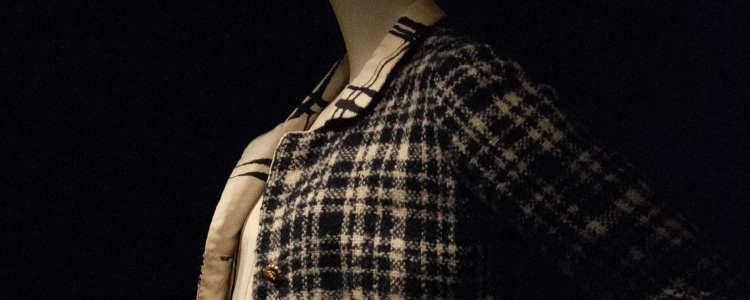 Can younger women buy quality suiting pieces like Armani and St. John, without looking old? Reader J has an excellent question: how to buy quality workwear without looking old.
I recently bought this Armani Collezioni jacket on an impulse. The price was too good to pass. But after I got home and tried it on a few more times, I start to wonder if this jacket would make me look too old if I pair it with a black skirt or a pair of black pants. I'm in my mid 30s and I thought this jacket could add 10 years if I appear all in black. What do you think? What should I wear with it to show the fine detail of the Armani design without adding 10 years to my age? I'd really appreciate your advice.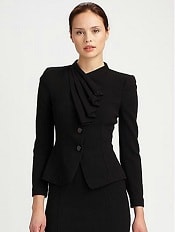 What a great question. I think some pieces — particularly higher-necked, conservative pieces — can tend towards looking a bit "older". Here are a few tips off the top of my head for how to look your age, but I'm really curious to see what the readers say:
Avoid wearing "frumpy" pieces with it — make sure if you're wearing pants that they fit well (and aren't too big) and that your heels look classic and stylish (to me, this would mean avoiding a stacked, chunky heel)
Consider pairing it with a younger, trendier piece — for this particular black jacket I might look for a bright royal blue pencil skirt, or perhaps try it with a pair of cigarette/ankle pants
When all else fails: Own it. If you feel like a million bucks in it, it will not age you. In the Saks video, the model is kind of slinking around — it's a bit too sexy for the office, but you see what I'm saying: "old" isn't necessarily the first word that comes to mind when looking at the video.
Readers, how do you avoid looking "older" in some pieces of clothing? Have you found any no-fail ways to look your age no matter what you're wearing?
Pssssst:
Some of our latest favorite Chanel-style jackets for work in 2023 include these, but in general check brands like Chanel, St. John, IRO, L'Agence, and Sandro.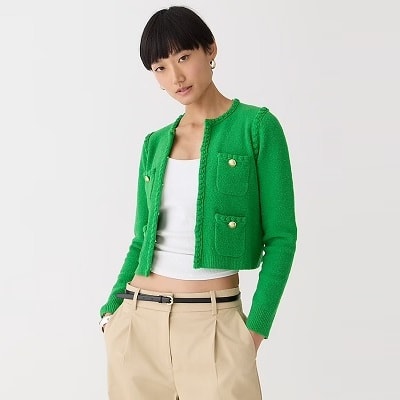 This post contains affiliate links and Corporette® may earn commissions for purchases made through links in this post. For more details see here. Thank you so much for your support!
We are a participant in the Amazon Services LLC Associates Program, an affiliate advertising program designed to provide a means for us to earn fees by linking to Amazon.com and affiliated sites.
Updated stock photo via Stencil.