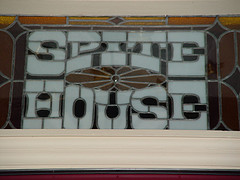 Reader N writes in with a sticky situation: in the midst of a company "reorganization," a female subordinate who has been with the company for much longer than she has has been badmouthing Reader N to her future bosses. We've talked about spiteful coworkers before, but not in the context of a reorganization where your job might actually be at risk. (Pictured: Spite House, originally uploaded to Flickr by Blind Grasshopper.)
I wondered if you and the readers could offer some advice. I lucked out with a fairly high powered in house counsel position only one year out of law school. I love, love love my job and all the challenges it brings. I have fantastic coworkers, and am super lucky to be working with people like the CEO, CFO and COO, and of course my boss the General Counsel.

The problem is that there is a member of my team who has been a thorn in my side since I started. This person is a paralegal and is a valuable member of the team, but she is on a destructive mission and is determined to get rid of me. She constantly badmouths me behind my back. At first it was the secretaries in our suite, and it may even have reached senior management. Eventually it reached my boss's ears, and he had a long and firm chat with her, during which she insisted that I "wasn't working out." She didn't have any evidence of this of why, and her comments were things like "well, you [boss] are so busy and she isn't really helping you- I just don't think she's working out."

I rarely work with her because of her disdainful attitude, and so she hasn't seen my work process but has seen the end product (and criticized it.) For example, she'll take a contract that I've written that is entirely correct, find something small wrong with it, and email my boss with a CC to me as to how to correct that mistake.

My boss has gone out of his way to rectify any damage she's done, and has told her he's very happy with my performance as are all the senior managers. She finally admitted to him that she was threatened by me and worried about losing her job (we are currently entering a joint transaction with another entity, whose management will remain and will be reorganizing our team). This was all several months ago.

Recently my boss and I discovered that she's been talking about both of us to the legal team of the other entity, and possibly spreading further rumors about my apparent unhelpfulness. My boss (who admittedly has let this behavior go on for way too long) is leaving soon and is rapidly losing any power to control this behavior (which he really didn't have before, anyway.)

I really don't care what this woman thinks of me, and have found ways to use others for the help that she really should be giving me. I also doubt that anyone on my team cares what she has to say. My boss's concern, and mine, is that she's already gone too far in damaging my reputation with the people who are in charge of whether I stay on or not.

Note- this woman has been with the organization a long time- 20 years or so- and I've been there only 6+ months.
Ouch. Well. We've talked about dealing with coworkers talking behind your back before, but we haven't quite dealt with this situation, where it's very possible that in the "reorganization" your job might go away. I think particularly because you're so new to the position (and the practice of law) you should prepare to seriously go to the mattresses to keep this position. The tricky thing is that your boss is leaving, and you need to campaign for your job even though no one's warned you that it's on the line.
So here's what I'd do:  go to your boss and ask him to set up a meeting with the new legal team — just lawyers, no paralegals. Lunch is great, a dinner is even better because you can spend more time socializing. Express your desire to your boss that he do his best to talk you up during dinner — why he hired you, why he's liked working with you, etc. I would prepare a few stories yourself from the past 6 months of things you've learned, concrete things you've done to help the team, and relate them back to any specialized school knowledge or work experience. Do not drink at dinner (or drink very, very sparingly). If your spiteful, bitchy coworker comes up, say nothing but good things about her work and her knowledge. I would probably avoid saying anything along the lines of "she helped me out when __" because it just gives credence to anything she says — the whole point is to look like a mature adult without selling her out (or talking her up).
(If paralegals are included in the dinner, do your best to figure out what she might say about you to your face at the dinner, and have quick but graceful replies ready. For example, when she mentions you screwing up the contract, you can smile and say something like, "Oh, thank you for catching [incredibly minor error]; I suspect the opposing counsel would have been fine with it." Even better yet:  ask your BOSS to respond to it in her presence in a similar quick but graceful manner.)
I would also suggest reading up on sponsors — the idea is that where mentors give you advice, sponsors advocate for you in meetings beyond your paygrade. Your current boss may be a good sponsor for you already, but one of the senior managers you mentioned might be better if he or she is staying with the company. Your boss may have more thoughts on who else could sponsor you at the company.
Finally:  I would suggest getting your resume ready now (including work experience at this company), in case you have to resubmit it as part of the reorganization. I might also take a few of my references out for lunch, let them know what's going on (both the reorganization and this spiteful coworker) and ask for their advice.
Readers, how would you handle reader N's situation — would you say anything directly to the coworker, or about the coworker to the future bosses? Have you ever had to campaign for a job that was already yours?