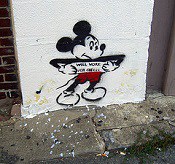 2018 Update: We still stand by this general interview advice — you may also want to check out our recent roundup of our best on-campus interview tips and resources..
Here's a question for the readers today: what is the best piece of interview advice you've ever received? (Or: What's the best tip for interviewing you learned the hard way?)  As millions of job-seekers flood career fairs at business schools and law schools, this seems an apt time to talk about it. (Pictured: Will Work for Cheese, originally uploaded to Flickr by walknboston.)
For my $.02, the best interview advice that I got was to figure out what wasn't on your resume, but is a great employee trait. Are you a great team player? Extremely creative? Can you think outside the box but in a practical way? Lovely — now try to remember stories from your past that illustrate those qualities. Try to do this with two or three traits (and memories that illustrate those traits). I wouldn't advise you to rehearse these stories — you never want to sound rehearsed in an interview — but you may want to spend 5 minutes and bang out an email to yourself putting the memory to words. Not only does this a) boost your confidence, but b) it gives you a go-to story if you get asked one of those odd questions that interviewers sometimes throw at you.
Ok, readers — what's your best interview advice?
Check out all of our old interviewing posts here.