Update: We still stand by this advice on how to decorate your first real apartment — links have also been updated below.
Reader R wonders about how to decorate her first apartment after grad school…
I'm about to graduate law school and will be moving into my first "grown up" apartment soon. I've never really had to buy furniture, decorate, or do any of that kind of stuff before, so I would love to see a post on the basics of how to go about it. I'm not ready to invest in serious re-modeling or fancy antiques or anything like that, but I'd like to create a nice environment for myself and get some furniture that I can keep for at least a few years. Thanks!
Congratulations! I'm curious to hear what readers say. My own experience with interior decoration has been somewhat surprising.
You see, I've always considered myself fairly fashionable and style savvy — so it kind of blew me away how much my first apartment (between college and law school) really looked horrible. My roommate and I decided to paint the living room a horrid shade of yellow… and then complement that with a pink rug. (I'm pretty sure this was all her idea.)
My bedroom was even worse, if that's possible. I had my posters from college, a really cheap rug, a huge folding table (which I thought would be a great idea to use as a really big desk… guess what was just a huge eyesore in my room?) and … wait for it … a huge La-Z-Boy reclining armchair, borrowed from my parents. It was like I forgot the "chic" part of "shabby chic." In addition to looking absolutely horrible, I hated spending time there — but didn't know how to make it better.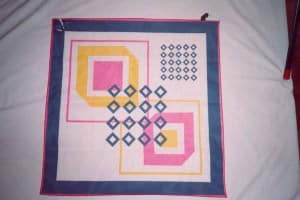 I was determined to not let the same horrible decorating happen again after law school, so I read a bunch of design magazines, such as Elle Decor, and ripped a ton of pages out that inspired me. (These days I would probably spend a lot of time on Pinterest instead!)
Because I was going to be in a studio — and expected to be home only late at night, after a long day of work — I decided that I wanted one color scheme throughout the space, and that I wanted a happy, bright color scheme. So I chose one of my grandmother's old scarves from the '60s, with shades of navy, white, hot pink, and yellow, and based the entire "design" around that.
(I had planned to hang the scarf as a piece of art on the wall, but at the last minute an ironing disaster happened and the scarf was ruined — you can see the tip of the iron in the upper left-hand corner.)
But here's the crazy thing: the apartment still looked great! Well, it was still filled with Ikea "placeholders" (until I found great furniture I actually loved, I said — it's amazing how much of it I still have now, even if it's just in my son's nursery), and it had a lot of hot pink and yellow, but I quite liked it.
My apartment now is still a work in progress, but the other main thing I've learned is that if you buy pieces that you love, they'll all work together in a weird way. For example, in our bedroom we have the strangest mixture of really modern things (such as our lamps, a bright blue wall, and large canvas prints of photos from our wedding) mixed with really traditional things (such as dark cherry furniture we had custom made for us from Amish Country in Ohio, a pinkey/green rug my mother-in-law bought for us as a gift during her travels in Turkey, and my wedding bouquet, dried and framed, hanging on the wall)… and the room totally, completely works.
My Best Tips on How to Decorate Your First Real Apartment
So here are my tips:
– Decorate your apartment with an eye towards your lifestyle. If you won't be home except at night, either try to avoid dark, somber colors or splurge for lamps you really love.
– Find something that inspires you for your color scheme. If you're in a studio, consider keeping this color scheme consistent throughout; if you're not you might want to consider a color scheme for each room. It can be anything.
– Figure out how much you can afford to spend on furniture right out of the gate. This is kind of a delicate balance in that a) you don't want to just buy a ton of stuff right now as your tastes might change and mature, and your odds of actually "loving" everything from the few stores you can go to right now are pretty slim, but — that said — b) you should probably face the fact that you're likely to have these pieces for at least the next 10 years, so you should purchase the best quality you can. With my couch, I remember thinking that I wanted a modern-looking couch, that was comfortable, that had a full-size sleeper bed in it, that was available in navy (to fit the color scheme), and wasn't too huge. There were very few couches that fit that description at the time I was looking, and I wound up having to decide between a leather Ikea couch, a custom couch, or just punting and using arm chairs until I found one that fit exactly what I wanted. I got the Ikea couch, and while I don't regret it, it's something I've been meaning to replace for about 5 years now.
– Make your apartment as "complete" as you can before you start work. This was part of my thinking with the couch (as mentioned above) — when I started work in BigLaw, I expected my life to be very, very busy, without a lot of leisurely time for wandering around New York or its suburbs to look for furniture pieces. If I hadn't purchased everything in the months before I started, I probably would have had a half-empty apartment with folding chairs until I was a third- or fourth-year associate.
Readers, what are your tips for interior decor — particularly for decorating your first apartment?
(Psst: don't forget we've talked about how much to spend on rent, as well as how (and when) to buy your first home…)
Picture below via Stencil.