Update: We still stand by these personal finance thoughts on how where you live is one of the biggest money choices you make, but you may want to check out our latest discussions on home ownership, including what to do first when you buy a home. 
One of the biggest money choices you make is where you live. When you're renting, the kind of rent you pay can hugely affect your savings and your cash flow. If you've bought, your mortgage payment may now be the biggest factor in what kind of job you can take.
How to Decide How Much to Spend on Rent or Mortgage
Experts generally say that your rent should be no more than 25-30% of your salary. When I first started working right out of college, that was laughable — even with a roommate, I couldn't find a place that I felt safe living in for less than $X, which wound up being 50% of my salary. Yeouch. On the flip side, when I got out of law school, that math (25-30%) meant I could have spent as much as 3X on an apartment — which a lot of my friends did. For some people, I think they thought they "deserved" to come home to a swanky apartment; for others I think they thought, "I will never see this kind of paycheck again! I'm going to enjoy it!" But cut to three or four years later, and they suddenly didn't want to leave that nice apartment or that lifestyle, and it had an affect on which jobs they looked for. Hello, golden handcuffs.
My advice to people who are just starting demanding jobs: realistically gauge how much time you're actually going to spend in your apartment. My thought when I got out of law school was that I would not see my apartment, because I expected to be working long hours (and I did). Furthermore, those crazy hours don't really "break" for the first 2-3 years, which meant I stayed in my first apartment out of law school for about that amount of time simply because I had no time to search for another apartment. So the rent you willingly pay, right out of law school, will have a huge impact on your savings, your cash flow, and it can even influence what kind of job you can take. Let's take a look at the number differences between two hypothetical renters, each making $100K:
– Person A pays 25% of her salary for rent, or $2083. Over 3 years she spends $75,000 on rent.
– Person B pays 30% of her salary for rent, or $2500. Over 3 years, she spends $90,000 on rent.
Note that with the difference in money, Person A could have saved an extra $15,000, using it for an emergency fund, investments, or to pay down debt. (With interest or good investment returns, that could be even more.) But really — depending on your city and your salary, even 25% can be a huge splurge. How low can you go? For example, someone paying 18% of her salary still has $1500 to spend on rent, but has $36,000 more than Person B at the end of three years.
How to Decide Where to Live
So how do you decide where to live? Some factors to consider:
– Where are you coming from? In law school I lived with 3-4 roommates in the top few floors of a townhouse on Capitol Hill that was in such a state of disrepair that we seriously worried that the "picture window" would fall off the building. We had a mixture of "we found it when we moved in" furniture (a broken, funky arm chair stands out in my memory), "it was super cheap at the store" (a $.98 plastic tablecloth that we used in the kitchen), and "I've had it since college" (or even "my parents have had it since college") furniture. So to me, it was a HUGE splurge to live by myself and get a studio apartment with a loft bed in a nice area of town (Fifth Avenue, between 15th and 16th Street.) (I believe it was 13% of my salary.)

– Safety. I had always lived in doormen buildings before in NYC, but I knew that a) I could get packages delivered to my office, and b) the company I worked for paid for you take a car or cab home if you worked past 8 pm. Keep in mind that many cab drivers will be kind enough to wait until you get inside the building if you ask them. If you're in similar shoes, take a look at the surroundings of your apartment — are there businesses that are open and bring foot traffic? Restaurants are great, but even a bodega will do. Bars or "all night ATMs" might make me think twice, but it's still better than an isolated spot. I once spent a summer internship living on a block that had a parking garage and some residential, non-doormen buildings on the street — I worried every time I stepped foot outside the apartment, no matter what time of day it was. Similarly, take a look at your building's security — while my studio didn't have a doorman, it did have a video intercom and several doors that required keys.

– Amenities. A gym in your building is amazing, but weigh how much you're really going to use it. Laundry drop off/pick-up is one of the big things that I know a lot of friends made use of in doormen buildings.

– Other factors that will affect your budget and time. For example: is the apartment located so far from public transportation that you're going to want to take cabs everywhere? If you have a car, are you going to end up a) paying through the nose for a private spot, or b) spend half your weekends hunting for a spot on the street, moving it for street cleaners, or worse?
(A note on buying: I had some single friends who bought apartments when they came out of grad school, either on their own or with the help of their family. It was the early 2000s, and so it turned out very, very well for a lot of them — after three or four years living in the space they sold it for crazy profits. (One friend made a 65% profit on her apartment, I kid you not.) Other friends found themselves stuck with a huge mortgage that restricted their lives as well as what future jobs they looked for. Had any of my friends who owned been laid off or fired, I suspect they would have been absolutely panic-stricken.)
Finally, for my $.02, I would advise decorating your apartment with the theory in mind that if you see it, it will be at night. I'm a fan of dark wood furniture, jewel tones, and black accents — but when I got my first apartment after law school I decided to go with white furniture and a "mod" color scheme (inspired by one of my grandmother's scarves) of navy, hot pink, and yellow. It made me happy when I came home at night, and it looked cohesive. (Pictures after the jump if you care to see.)
Readers, what percent of your salary do you pay for rent or mortgage? What things do you love about your apartment, and what regrets do you have?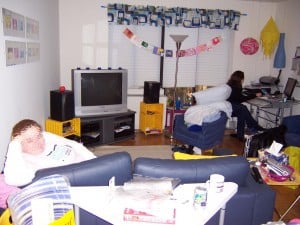 (Above: my studio apartment with a loft bed (behind the bookshelf), where I lived from 2003-2006. Pictures taken by my friend T when she came to visit in 2005 — it was a huge mess then, obviously!)
2020 updated photos (red Monopoly house) via Stencil.