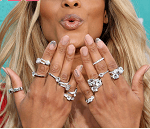 How can you "edge up" a conservative look (and still look professional)? Reader T wonders…
I'm in a creative field (aspiring commercial director) and recently came out of a personal branding seminar where I was given the suggestion to "edge up" my look, which I think is actually a good idea. I dress pretty polished (J. Crew, Theory) – any suggestions? I do tend towards bold shoes and bright handbags, but I think that's not enough and need something visible from the waist up (i.e. during an interview or over coffee). I'm leaning towards always making sure I have one statement piece of jewelry – chunky ring or bib necklace – but would love to hear other suggestions, from the temporary (giving my hair a gray streak, painting one nail a different color) to the more permanent (a small tattoo on the wrist). Any suggestions for how to do this without spilling over into kooky art-teacher land?
My gut reaction here: gaaah, don't get a tattoo! I actually think the statement piece of jewelry idea is a good one — this is one of the only times I would encourage someone to think "volume" in terms of accessories, but layered bracelets, rings, or necklaces can all have a big impact. There are lots of other ways to edge up your look in ways that are not permanent. Here are some ideas on ways to push your naturally-conservative style towards an edgier vibe:
1) Personality glasses (also called "birth control glasses" by some of the readers). These won't necessarily be flattering or attractive, but they will make an impact — see, e.g., the J.Crew catalog and the various bespeckled models there. For bonus points: get a pair of sunglasses and have the dark lenses changed to clear lenses; also consider checking out the mens' section. Even getting a classic pair of sunglasses, like the RayBan Wayfarers, converted into eyeglasses can make a big impact; choosing an unusual color can also be an easy way to make your look edgier.
2) Go for impact makeup. For example: if I were to stop wearing all makeup except for dark red lips, that would make a huge statement. (See, e.g., Tilda Swinton's Oscars 2009 look.) Make sure you find a great red that doesn't change colors, and stays put when you want it to.
3) Get a a bold haircut. Can you pull off a pixie cut? Alternatively, I like your gray streak idea — I've also seen very sophisticated "ombre" effects involving colors like blue and hot pink. Part of this depends on your age, I think: if you're over 30, the time for trying out pink or blue hair has passed. If you decide to color your hair, though, I beg of you: find a top notch colorist to do it. Particularly with edgy looks, that makes all the difference between "chic" and "oh, there must have been a home hair-dye disaster."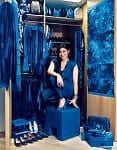 4) Study your wardrobe. The easy advice here is to switch to all black and throw in a few very outre, of-the-moment accessories (fur vests, huge neon watches, etc.) (If you're in a fashion or design industry these should probably all be real items, not knockoffs.) You could also consider wearing just one color. I remember a New York magazine piece a few years ago about a woman who wore only blue — she was so committed to it that she even bought white Louboutins and dyed them blue with a special blue Sharpie.
I would probably only choose one or two of these ideas, but that's me. Readers, what edgier looks have you seen that could have grown out of more conservative looks? Have you ever felt the need to make your look more edgy?