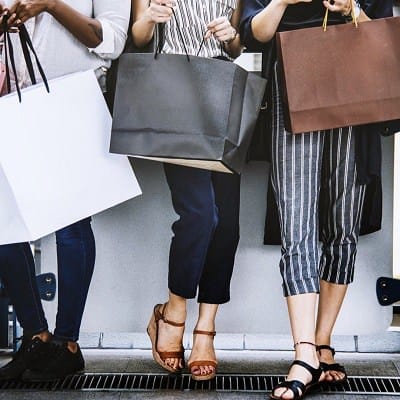 I was perusing Nordstrom Rack and T.J.Maxx recently for the first time in a long time, and I was thinking to myself that when you're shopping in the stores — particularly discount stores — there are a separate set of rules than if you're shopping online, to be sure, but also if you're hunting in a store where things are displayed more nicely. These are some of MY rules I've come up with for discount shopping — to ensure I get a deal at discount clothing stores like T.J.Maxx, Nordstrom Rack, and more (because not everything is a deal!). What are yours, ladies?
Psst: Here's my report from my visit to T.J.Maxx HQ (still a fond memory), advice on how to survive the outlet mall, and, of course, some of our top tips on online shopping for workwear.
Rule #1 For Shopping Discount Clothing Stores: Start With Your Sizes — But Keep an Open Mind, Particularly With Clearance Rack Items
I once got a super soft, warm wool coat for $20 — because it was marked an 8 and fit me comfortably when I was a size 12. Not only are items on the wrong racks, but items are often on the deeply discounted racks because of an error in sizing.
Rule #2: Know Your Brands
I was marveling at the brands I saw at Nordstrom Rack in particular — St. John's, Ted Baker, Lewit, J.Crew — and I wasn't surprised at some of the usual suspects you find at discount stores (Max Studio, Tahari, Calvin Klein, Karen Kane). But there were a lot of brands that I didn't recognize and were marked with super low prices — the fabrics all looked alternately stiff and unbreathable, or worn and stretched. My advice: Ignore brands you don't know unless you see a certain color or style you have to have. Another tip related to knowing your brands: Some brands manufacture things specifically for off-price clothing stores, while others swap labels (remember all those stories about Ivanka Trump's clothes being relabeled as Adrienne Vittadini?). So, buy something because you like it and it fits well — not because you're crossing that designer name off your bucket list.
Rule #3: Recognize Where Discount Clothing Stores Excel — and Where They Don't
For my $.02, discount shopping is great for things like a) basic raincoats or wool coats that you don't want to pay too much for, just try them on and see how they fit, b) shopping for cocktail dresses to wear to weddings and the like, and c) honestly, suit shopping if you're just starting out. (Oh, and d) basic slips and camisoles!)
Everything else is treasure hunting — you may find a great sweater or a pair of jeans or a bag or pair of shoes — don't go in looking for a basic like that.
Rule #4: Prepare For Shopping by Dressing in Intelligent Layers
If you dress in intelligent layers, you can save yourself trips to the dressing room. Wearing a lightweight t-shirt or tank top as your base layer lets you try on coats, cardigans, blazers, sometimes even blouses or dresses. I've also seen a lot of women wear leggings so they can start wiggling into a dress or skirt next to the rack (but personally I tend to head to the dressing room when I want to try on pants, skirts, or dresses).
My main point here: If you're wearing a bulky sweater with nothing underneath and a pair of shoes that takes forever to get into and out of, your options for trying stuff on will be limited.
Rule #5: Be In the Mood to Treasure Hunt
If you've already got a headache or if you're in a bad mood because of something else, reconsider going to a discount store — the racks are close together and often in disarray, the air flow isn't always the best, and I've seen rude shoppers often enough to know that to avoid it if I'm not in the mood.
Ladies, what are your thoughts: What are your best tips on how to get a deal at discount clothing stores or off-price retail stores like Nordstrom Rack, T.J.Maxx, and others? (Any particularly great local stores that always seem to have the best stuff?) Discount shopping pros — share your BEST deal with us!