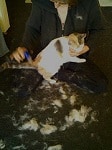 How do you keep your clothes looking nice when you live with animals? Reader A has a great question about pets and clothes:
I have a question about caring for your clothes when you live with animals. I have a wonderful dog, who unfortunately sheds. His fur also builds up a lot of dander, and when he walks past me, the dander often brushes off on my pants leg or tights and leaves a white-ish residue (similar to the texture of dry shampoo). I use a lint roller constantly to get rid of the hair, but I can't seem to get rid of the white residue unless I dry clean it. Any tips, other than washing my dog every day? Thanks!
Pet hair can be a real problem. Having never had a pet, I'm really looking forward to the wisdom from the readers here. Some suggestions, off the top of my head:
1)  Lint brush, lint brush, lint brush. 
In a pinch, the
FedEx pouches are great lint rollers
. Your dog's dander sounds like you might also want to try out something like a special
pet hair remover sponge
or some of the other offerings on
Amazon
such as the magnets, stones, mitts, or brushes. There is even a
Furminator
(which seems to be, ahem,
pretty
popular
).
2) Reconsider what your main clothing colors are. 
For example, one friend with dogs preferred to wear beige or gray suits because black and navy suits were too hard to maintain.
3) Minimize the amount of time your pet spends around your good clothes.
  For example, change into jeans or other comfy clothes as soon as you get home for work (I've always found it's a great way to tell yourself it's time to
relax
anyway), and keep your closet door shut.
Readers with pets, what do you recommend — how do you keep your work clothes free from pet hair? Do you have any favorite removal tools or other ways to cut down on the amount of shedded fur?
(Pictured: Penelope Gets Furminated, originally uploaded to Flickr by Oaktown Pirate.)
We are a participant in the Amazon Services LLC Associates Program, an affiliate advertising program designed to provide a means for us to earn fees by linking to Amazon.com and affiliated sites.