Sore feet can ruin any vacation — or the early days on a new job — or heck, early days of a new season while you re-break in all of your summer shoes from last year. Whatever the reason, there are a TON of affordable products and easy exercises you can use to help soothe tired feet. Today, we round up FOUR great products to help your sore feet feel better, including a few flexion exercises for tired feet and a great general circulation exercise.
Ladies, what do you do when your feet are killing you? What work events make your feet the most tired (new shoes, networking events, giving presentations) — or are you in such a happy place with your shoes for work that it's only shopping, museums, or other vacation-type activities that wear your feet out? 
A few tips at the outset: don't forget to choose comfortable heels or flats, give the shoe time to air out in between wears (this also helps extend the life of your shoes), and use blister block and other products to help particularly with summer feet.
This post contains affiliate links and Corporette® may earn commissions for purchases made through links in this post. For more details see here. Thank you so much for your support!
Four Products to Help Your Sore Feet Feel Better
Yoga Toes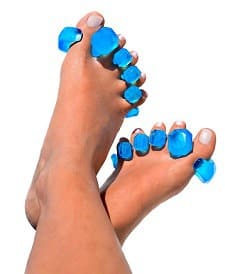 – I've had a pair of these for years and have gotten them for pretty much every woman I love (and my husband too!) They're a little weird but they feel great when they're on. It's a serious stretch, though — you may only be able to handle 5 minutes to start. (If Yoga Toes are too intense for you there are a ton of imitator brands out there, as well as things like toe separator socks, but it really is worth it to "practice" with Yoga Toes.
Gaiam Restore Ultimate Foot Massage Roller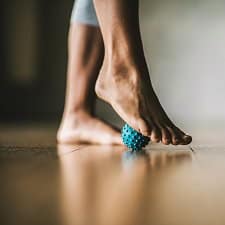 – I just got one of these bad boys from Amazon and like it; the idea is that you can get a great foot massage by using your own bodyweight to relieve tightness. It's very similar to the idea behind a body size foam roller. (Note: there are certainly fancier foot massage machines out there like this one if you're looking for more — I just haven't found any I really love yet to recommend.)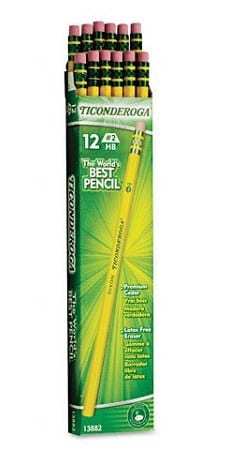 Pencil – Any kind of pencil will do here, although something about the typical hexagonal wooden pencil feels nice. (Pictured.) Put the pencil on the ground, and pick it up with your toes. (This is one of the flexion exercises for your feet I got from Your Feet Don't Have to Hurt! Another great flexion exercise: point your toes and write the alphabet in the air. If my feet are super sore from walking all day or wearing uncomfortable heels, I really notice a difference with this one — this is what I do if I do nothing else before bed.)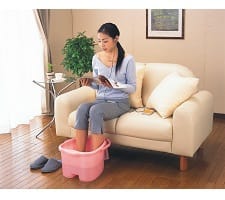 A soak – If a bath isn't in the cards, at the very least try to soak your feet in hot water with epsom salt for a bit. (Bonus: if you happen to be walking all day in sandals in a city, odds are good your feet are disgustingly dirty right now, so you can clean them off.) Amazon has a whole foot bath section (who knew?) but you can also just get a bucket (pictured) or even a $6 dishpan if your tub isn't doing the trick.
A bonus tip to help soothe your tired feet:
To help circulation in general: take off your shoes, then walk across the room on your toes — walk back on your heels. If you've been standing in one place for too long (networking, anyone?) this feels awesome.
How about you, readers — how do you make your sore feet feel better, or otherwise soothe your tired feet? What products do you love — and do you have any exercises you do to help with flexion or circulation for your feet?
Psst: some of our favorite comfort heels and comfortable flats…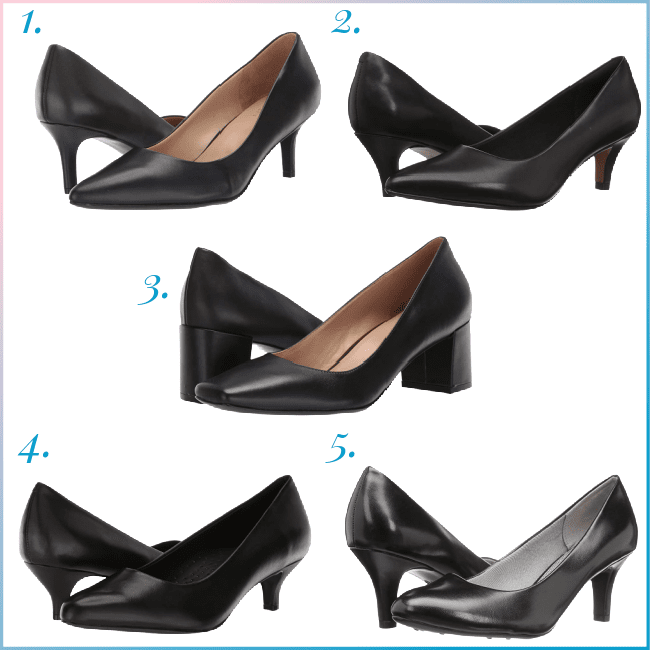 Stylish comfort heels for 2022: 1) Naturalizer 2) Clarks 3) Naturalizer 4) Trotters 5) Lifestride (not pictured but see also!)
In general, check out brands like Clarks, Naturalizer, Trotters, Cole Haan, Vionic, and Lifestride if you're seeking affordable, stylish comfort heels! If you definitely want a stable base, check out brands like FLY London, Dansko, Eileen Fisher, Børn — they're great as commuting heels (because you can maintain height for pants hemmed for heels), but they may also be just the ticket if you want something more comfortable.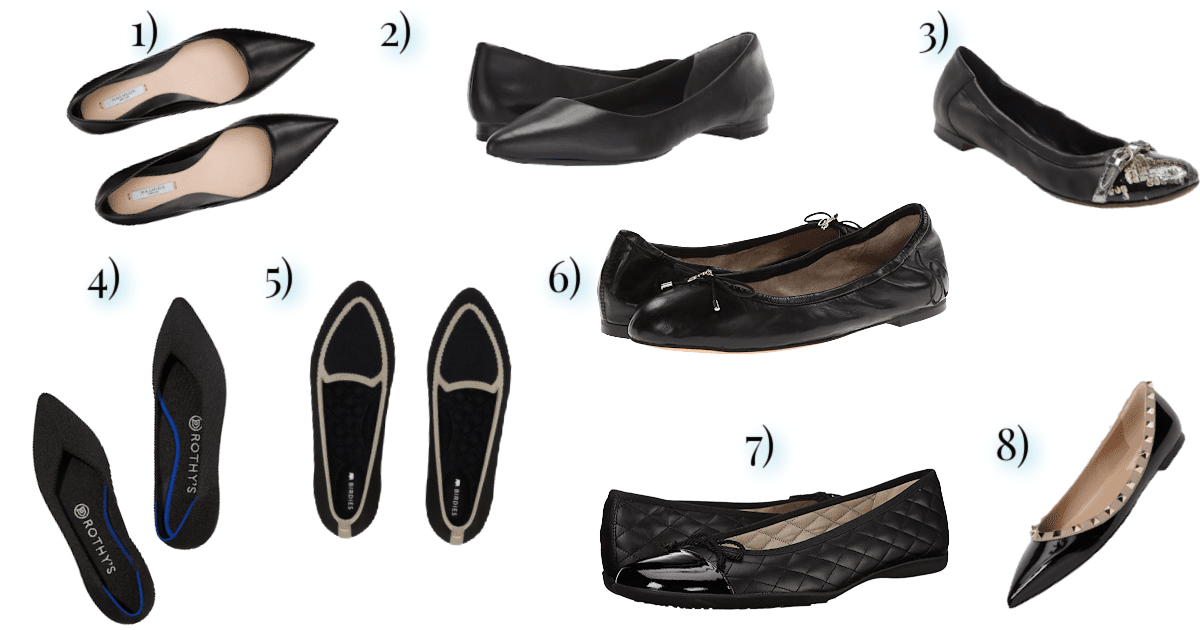 Pictured at top: Shutterstock / Martin Novak.