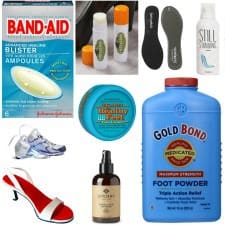 2018 Update: We still stand by this advice on summer foot care, but you may also want to check out our more recent discussions of how to make your sore feet feel better, as well as our best advice on what to wear to work in the summer.
While we may be happy to welcome the warmer weather, our feet might not be. To help you tackle cracked, rough heels that remain after winter; painful blisters from shoes you haven't worn in months; sore feet from high heels; and sweaty feet, we've rounded up several foot care products that can help with summer foot care.
FootGloss All-Natural Foot Prep: This balm stick made from all-natural ingredients (and also made in the U.S.) is designed to prevent blisters. Just apply it to your foot where your shoes rub them, and it'll reduce the friction that leads to blisters forming under those tight spots. FootGloss is free of fragrances, petroleum, and parabens; instead it does the job with castor seed oil, olive fruit oil, beeswax, and more. It's available for $21.95 (for two tubes) at The Grommet and for $12 (for one o.5-oz. stick) directly from FootGloss.com. Psst: If you're plagued with blisters from stiff, unforgiving shoes, check out our Guide to Comfortable Heels.
Band-Aid Friction Block Stick: Here's another foot care product that prevents parts of your shoes from chafing and irritating your feet and creating blisters. (This one has a slightly lower price.) The main ingredient is an oil, like FootGloss — hydrogenated vegetable oil in this case — but unlike FootGloss, it's not fragrance-free. Still, reviewers seem to like how it smells. The stick is still listed on Band-Aid's site but is now sold out at most online sources, so you may want to buy right away — I have a feeling it's discontinued. You can buy what looks like an older version of the product at Amazon (free shipping; not Amazon Prime) for $9.99 (.34 oz. stick), Walmart has a couple 2-packs left for $16.20, and some Target and CVS locations still have it in stock. Foot Glide and its predecessor Body Glide are similar products that are also available at Amazon.
O'Keeffe's for Healthy Feet: This foot care product has an amazing 4,115 customer reviews (!) on Amazon and an overall rating of 4.5 stars out of 5, and for good reason. It will help get your feet ready for summer shoes by making a huge difference on dry, cracked heels. (Worked for me! That is, when I actually bother to use it.) The product website recommends putting the cream on your exfoliated feet after a bath/shower or before you go to bed. It's available in a lidded container for $8.84 (3.2 oz.) or a lotion bottle for $7.70 (3 oz.) — and O'Keeffe's offers a 100% money-back guarantee if you're not happy with the product.
Band-Aid Advanced Healing Blister Cushions: We've all tried to protect blisters by covering them with band-aids — but after being rubbed by your shoes for a while, the band-aids inevitably come off, and the next thing you know you've got blood in your shoes. Lovely. These bandages actually stay on, however — even when you're walking around — so you won't have to fear grossing out your coworkers. They're certainly not cheap, but they're worth it when you need them; I haven't found anything else that stays on like these things do. They're available at Amazon — where their rating is 4.5 out of 5 — for $7.05 for a six-pack.
Odor-Control Shoe Liners: We've previously recommended Silver Linings Shoe Liners to keep your shoes smelling fresh and clean, but, alas, they seem to no longer be available. A couple of promising substitutes are Foot Petals Sock-Free Saviors (4 stars at Zappos) and Summer Soles (4.2 stars at Amazon). Corporette readers have also recommended Gold Bond Foot Powder, Sperry Sandal and Shoe Refresher, and (if you need serious help) the SteriShoe UV Shoe Sanitizer, as well as applying antiperspirant or hand sanitizer gel to your feet to reduce odor.
Still Standing Spray: Here's how this product's website describes its origin: "After two years obsessed with research on the health of the foot, history and design of shoes, working with the most advanced chemists and overseeing in-depth testing, Lyn [Butler] finally introduced her now famed brainchild." Still Standing's directions instruct you to spray the product all over your foot and let it dry for one minute before putting on heels. We haven't tried it yet, but the website claims it will prevent swelling, pain, and redness for several hours (without numbing your feet) with ingredients like arnica, aloe, menthol, tea tree oil, and Vitamin E. The site's testimonials sound promising, but I found both positive and negative reviews online. Still, the company offers a refund within 30 days if you're not satisfied, so it's worth a try!
What are your favorite foot care products for spring and summer? Any tips for breaking in new shoes, or preventing or caring for blisters? What are your favorite summer shoes for work?